IC System's Back to School Drive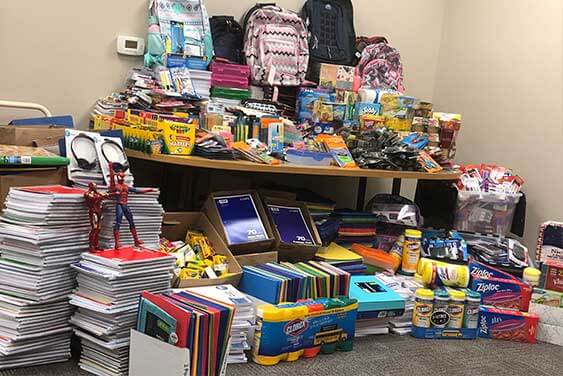 Summertime is a slower period in the collection industry. Between tight budgets, summer vacations, and the children home from school, everyone has a little less money to throw around than other times of the year. Perhaps that's why, around the end of August, when the kids start getting ready for school again, many parents find it difficult to pay for back to school items. With this in mind, over the last few weeks at IC System's office in La Crosse, Wisconsin, employees have gathered school supplies to help local families that struggle to afford these back to school items for their kids.
Partnering with a local organization, Catholic Charities, the IC System staff members turned their back-to-school charity into a competition. Operational teams competed against one another to determine who among them could gather the most back-to-school supplies. Over the course of the three-week competition, participants could also bring cash, which was used to buy supplies as well. Each item donated had a point value. For instance, crayons were 5 points, while backpacks were 40 points.
Although the team with the most points won only bragging rights, the supervisors in charge of the losing teams (and really, there are no losers in a competition like this) received a pie in the face. For their effort, and pies in the face, the teams raised over 4,000 items, including thousands of notebooks and folders, writing utensils, planners, school snacks, calculators, and backpacks. Plus so much more. The items were delivered to Catholic Charities, a Salvation Army event at the La Crosse Center, on August 13.
"We are incredibly proud of what our office was able to accomplish," said Kimberly Dickinson, an Operations Supervisor and organizer of the charitable contest. "I was overwhelmed with the number of school supplies that were donated by our office. I knew that the drive was going to be successful, but I could not have imagined that we would have collected over four-thousand items! We truly set the bar for next year! I'm confident that 2019 will be just as successful and we will be able to continue helping families in the La Crosse area."
Brian Eggert is a business development specialist and writer for IC System, one of the largest receivables management companies in the United States. With 18 years in the collection industry, Brian's experience includes operations, client service, proposal writing, blogging, content creation, and web development.