IC System Employees Roll Up Sleeves for the Red Cross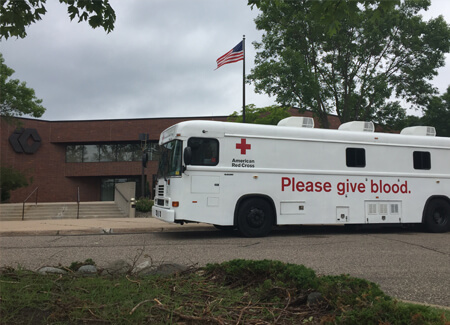 When a long Winnebago-style vehicle called the "Bloodmobile" pulls up to your office building, tensions seem high until everyone realizes that, no, it's not a vampire transport—it's actually just the Red Cross, and they're here to collect donations. Twice a year, IC System's charity group ECHO (Employee Charitable Help Organization) asks for volunteers throughout our company to give blood and help save lives.
On June 13, members of the Red Cross arrived in their Bloodmobile (yes, that's the actual name). The Red Cross always comes equipped with the proper tools and supplies, confidentially screening donors and safely carrying out donations. Each donation can make a huge difference, potentially saving more than one life per donation. Plus, it feels great to donate and know that you're giving back to your community. And when it's all over, they give you juice and cookies!
More than 30 IC System employees, 6 of them first-time donors, helped provide the Red Cross with a whopping 25 pints of blood. The Red Cross told IC System, "We truly appreciate your generosity. The patients who have benefited from the blood collected at your blood drive are beyond grateful."
Chanel Bell, the organizer of the event at IC System, noted, "It's was nice seeing IC System employees making a difference in our communities by participating in the Blood Drive. Since I can't donate blood, I figured I could make a difference by lending a helping hand with running the Blood Drive. I want to help make a difference in our communities, and I want to help be part of a positive movement in our communities."
IC System wishes to thank the Red Cross for making the trip so we could give to those in need. If you have a business and would like to organize your own blood drive with the Red Cross, you can register on their website; just be sure to give your staff advanced warning that the "Bloodmobile" is coming.
Brian Eggert is a business development specialist and writer for IC System, one of the largest receivables management companies in the United States. With 18 years in the collection industry, Brian's experience includes operations, client service, proposal writing, blogging, content creation, and web development.