The future of medical billing: A case for digital tools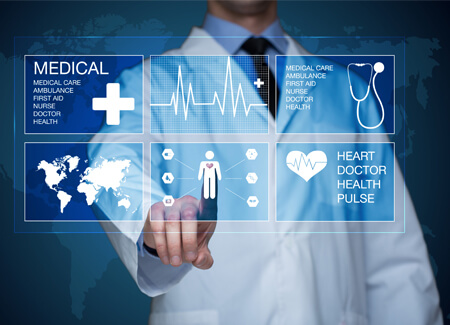 Take a peek at the hospital of the future. Monitors outside patient rooms give all the pertinent data at a glance. Caregivers use devices for scanning, photos and record keeping. Location devices maintain staff efficiency, while also keeping family members updated on the whereabouts and care of loved ones. This is the vision and goal for Toronto's Humber River Hospital — integrating various technologies into one unified system.
And these hospital leaders are not alone. Providers in the U.S. are also embracing the idea that high-tech medicine lies in their future. Of the 1,300 doctors surveyed this summer by the American Medical Association, 85 percent said digital health solutions would benefit patient care. At the same time, it was essential to them that the workflows from these high-tech systems integrated with their electronic health record (EHR) systems.
One important evolution toward digitized medicine is integrating EHR and practice management software. When these two components of your practice can efficiently communicate with each other, you can deliver better care and a better patient experience. Here are some examples:
More efficient office staff time: Data is transferred seamlessly, eliminating the need for office staff to enter information into a separate system.
Better reimbursement: With a speedier transfer of information from time of care to billing, claims can be quickly submitted to insurance companies and patient billing. Because ICD-10 codes would no longer be hand-entered, that can reduce errors that lead to claim denials, billing disputes and, ultimately, payment delays.
More patient-centric: As patients pay higher out-of-pocket costs, they are more deeply involved in their medical care than ever before. Systems that quickly and accurately deliver the answers they seek will open the doors of communication and empower patients to make more informed decisions about their care.
Accurate reporting: A complete financial picture of your practice will be at your fingertips and that includes your accounts receivables. If you choose a collections partner such as IC System that can easily integrate with your practice management software, a complete and accurate record of your past-due claims can be transferred easily and on time. Having this high degree of accuracy and timeliness at the beginning of the collection process will boost your chances of recovering outstanding debt.
Brian Eggert is a business development specialist and writer for IC System, one of the largest receivables management companies in the United States. With 18 years in the collection industry, Brian's experience includes operations, client service, proposal writing, blogging, content creation, and web development.