Plan for Collections as a Last Resort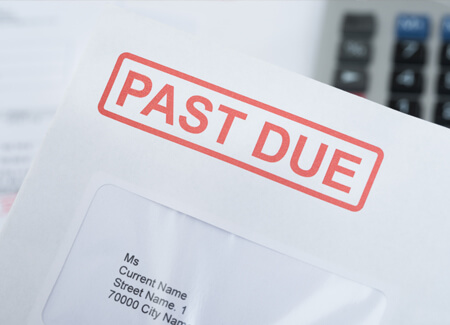 Most customers and clients do the right thing and offer payment for the goods and services they've received. Unfortunately, there are always some who put you off or fail to pay altogether. If your accounts receivables are getting too high, perhaps it's time for a hard look at your financial system, and even plan for collections work on your accounts.
Do a credit check
A credit check is like a great filter for your cash flow. Catching risky customers early prevents clogs. Before you extend the credit or take on that lengthy project, it's worth taking some time to conduct a credit history check by going through one of the three major credit reporting bureaus. Knowing your customer's payment history, credit score and any negative public record filings, such as a bankruptcy, will give you a solid idea on how likely they are to pay you on time. Should one come to you with a shaky payment history, you can protect yourself with stronger terms, such as a higher down payment or a lower credit extension.
Have a late payment policy
A good policy helps customers know what they can expect and when and what is expected from them. If you don't have a late payment policy, it's time to get busy. It should clearly state when payment is due, what actions you will take when it doesn't arrive and at what point the account will be turned over to collections.
Take time for an accurate estimate
As we've seen in the medical sector, a surefire way to delay payments is to confuse and anger customers with a surprisingly high bill. We always say the customer is entitled to a solid forecast on what they're in for before service begins. Be sure and factor in a range of variables that can alter the terms along the way, and always inform them how changes will affect their costs. Before services begin, collect a down payment.
Make it easier for customers to make payments
If the only available option is still the envelope and stamp, it's really time to build more channels. Think about it: In a few years, you could be talking to young people who never used or needed a debit card, thanks to cardless ATMs. If your customers have to dig out their seldom-used checkbooks and go out and buy stamps in order to pay you, you'll be waiting longer for your money. Talk to your bank or credit union about electronic payment options.
Partner with a collection agency as a last resort
In spite of your efforts to make it easier for customers, there will always be some who don't come through. Before that happens, plan ahead and find the right collection partner so you have a better chance of recovering those late payments. IC System has several right-priced options and resources for small- and medium-sized businesses to improve their accounts receivables.
Brian Eggert is a business development specialist and writer for IC System, one of the largest receivables management companies in the United States. With 18 years in the collection industry, Brian's experience includes operations, client service, proposal writing, blogging, content creation, and web development.