About IC System & Ethical Debt Collection
Who We Are
IC System is a privately held accounts receivable management firm founded in 1938 on the principle of ethical debt collection practices. Now in our third generation of family ownership, our purpose is "Making Collections Better" through debt collection that is ethical and kind. This simple statement guides every decision our leaders make and influences every interaction we have with consumers, our clients, our industry, and our community.
Headquartered outside of St. Paul, Minnesota, our collections company's purpose remains very much the same today as in 1938. Our representatives use the most ethical and consumer-friendly debt collection practices, helping to maintain the relationship that you have built with your customers, while also providing our clients with the results they need.
The Star Tribune named IC System a Top Workplace in 2017; a Top 150 Workplace in 2018, 2019, and 2020; a Top 175 Workplace in 2021; and a Top 200 Workplace in 2022.
Additionally, insideARM ranked IC System as one of the 2021 Best Places to Work in Collections.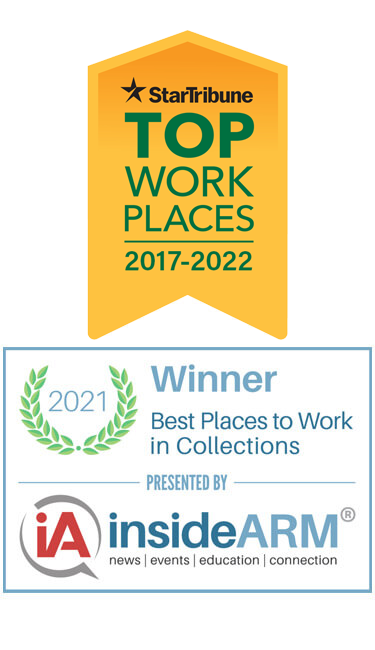 2021 BBB Torch Award for Ethics
The Better Business Bureau® of Minnesota and North Dakota has named IC System a winner of the 2021 Torch Awards for Ethics.
Lisa Jemtrud, BBB Vice President of Community Relations, explains, "This award is special because it's bigger than a product, service or brand. It's about displaying an ongoing commitment to ethical practices. BBB is proud to give this award as our highest honor."
Additionally, IC System was a finalist for the BBB Torch Awards for Ethics in 2013, 2014, 2015, and 2019.
IC System is also Accredited and A+ Rated by the BBB as a result of our ethical approach to debt collection and low complaint volumes.
Core Values
Our Core Values guide every decision and interaction in how we conduct an ethical debt collection business, and they shape our office culture as well.
PEOPLE: We treat PEOPLE with dignity and respect.
INTEGRITY: We do the RIGHT THING.
PERFORMANCE: We deliver RESULTS that exceed expectations.
PRIDE: We are PROUD of what we do and how we do it.
INNOVATION: We find BETTER WAYS to get things done.
If an IC System employee recognizes an outstanding demonstration of these values in one of their coworkers, they can nominate the individual for the Core Value Award. Each quarter, IC System honors one of its employees with a Core Values Award and recognizes individuals who best exemplify one or more of our values.
In the Community
IC System believes in making a difference in the community, both by setting an example and by doing our part to give back wherever possible. Our in-house charity committee, known as E.C.H.O. (Employee Charitable Help Organization), began in 1981, and it includes employees dedicated to helping our community. Their primary function is to investigate and make decisions on the solicitation and distribution of funds donated by IC System and its employees. Not only do they plan monthly charitable efforts, but they also consider the needs of employees who are facing catastrophic health and personal situations.
Just a few of IC System's charities include the American Cancer Society, American Red Cross, ARMing Heroes, Relay for Life, Ronald McDonald House Charities, Special Olympics Wisconsin, St. Jude Children's Hospital Charities, Toys for Tots, and the White Bear Lake Food Shelf.
To learn more, download IC System's most recent In the Community PDF.
Sustainability Objectives
IC System is committed to achieving our sustainability goals through how we operate, communicate with our partners, and learn from our successes and failures. Our collection company's specific objectives are:
Being mindful of carbon neutrality through conservation and efficient use of energy, renewable resources
Consideration of sustainability in the maintenance and management of our infrastructure and lands
Taking into consideration environmental and fiscal considerations in order to make responsible purchasing choices
Supporting initiatives of employees, clients, and vendors to achieve our goals
Challenging every IC System employee to bring their sustainability values into other communities through activities including teaching, learning, working, research, and discussion
We'll Help You Identify the Next Steps to Overcome Accounts Receivable Challenges.
Your comprehensive pricing request will include the following:
No cost pricing quote for your IC System services
Materials to help streamline your accounts receivable
A sample IC System agreement
Establish a follow-up plan