When is it time to write off patient balances?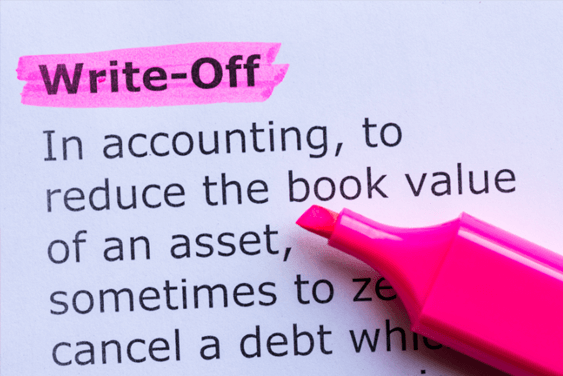 Has a bill ever arrived in your mailbox with a balance so small, it was laughable? There are myriad reasons behind the balances on the books, which is why well-managed practices establish a hierarchy and create procedures. It's important to bring clarity to which past-due accounts need pursuing, and when you should write off patient balances. Moreover, addressing the common causes behind the past-due accounts can lower costs and decrease accounts receivable.
Small balances: Every year or two, calculate the cost per invoice to make sure the practice sets the appropriate benchmark. These low-amount bills can (and should) be written off, but can remain on the patient's account so the balance can be collected at the next appointment.
Prompt payment discounts: When patients lack insurance and choose to pay in full during the appointment, a discount is one write-off worth having. The trade-off means better results from your A/R reduction efforts.
Late filing: Every practice should be well-versed in the deadlines for filing claims with government and insurance payers. Insurance appeals also have a window of time in which they need follow up. Take this awareness a step further, and do a monthly review of these write-offs to discover trends and uncover underlying causes.
Administrative: Many reasons can lie behind these case-by-case decisions to write off a patient account, but most of these happen when the patient has a legitimate beef with their experience at the practice. When they do, be sure and bill the insurance payer correctly. The billed amount should reflect the adjusted fee.
Indigent care: While a good caregiver offers compassion when it's needed, it's just good business sense to not use intuition as the benchmark for offering no- or low-cost care for those who say they can't pay. Give patients an equal and fair chance to receive charity care and set standards and procedures to establish eligibility.
Late payment: More revenue than ever is now coming from patients. That means all practices need updated, best-practice-based billing management aimed at improving communication and collections. Working with a trusted collection partner can help. Choose one with decades of experience in medical collections.
The professional staff at IC System can do more than make phone calls and write letters. We can offer support in key areas for past-due patients, like establishing charity care eligibility and following up on denied claims.
Need collection help?
Call us at 1-800-279-3511 to REQUEST PRICING!
Brian Eggert is a business development specialist and writer for IC System, one of the largest receivables management companies in the United States. With 18 years in the collection industry, Brian's experience includes operations, client service, proposal writing, blogging, content creation, and web development.