IC System Comes Together in Drive-Thru Events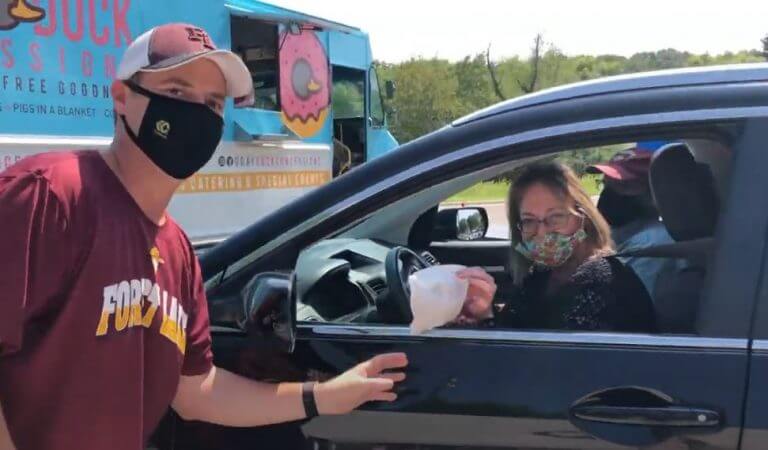 IC System, a nationally licensed collection agency headquartered in St. Paul, Minnesota, held a drive-thru meal event on Friday, September 25, for its more than 500 employees. Both the company's home office and the branch office in Onalaska, Wisconsin, participated. Great food served in a safe and socially-distanced way resulted in a rousing success, which allowed the company to come together, albeit apart.
Like most businesses in the age of COVID-19, IC System has most of its staff working from home to remain safe. However, the first of IC System's Core Values is People and, in a normal year, the company's social calendar would be with fun events, outdoor grilling, and other festivities to foster a healthy culture. Although the company could not come together as they usually would, the drive-thru event, one of many held in recent months, allowed employees to be served by members of leadership, pick up some food, and get out of their home offices for a while.
Over the summer, IC System held several drive-thru events for breakfast sandwiches and breakfast burritos, gourmet sandwiches for lunch, and even some delicious foods inspired by the Minnesota State Fair (which was canceled in 2020). The food, always delicious, has been provided by Stonehouse Custom Catering in Vadnais Heights. Extras from these events have been donated to the White Bear Area Food Shelf.
The September 25 event at the company's headquarters office featured a "Better Breakfast" theme. Stonehouse provided a breakfast bowl with potatoes, peppers, and onions, topped with scrambled eggs, turkey sausage, fresh Pico de Gallo, avocado yogurt, and cheddar cheese. (Is your mouth watering yet?)
Employees brought their family to the drive-thru line in IC System's parking lot, where they also had an opportunity to give back. One of the stops in the drive-thru line was a station where masked volunteers collected school supplies for the Kids in Need Foundation. After dropping off notebooks, folders, writing utensils, and other needed supplies, employees moved forward to pick up their meal. The food was freshly prepared by Stonehouse on the scene and delivered to employees by members of IC System's leadership.
Meanwhile, IC System's Onalaska branch office, missing the year's usual Oktoberfest events and parade, created their own celebration. The drive-thru lunch featured brats fresh off the grill, potato salad, coleslaw, and root beer served in IC System steins. Attendees even decorated their cars in place of the usual Oktoberfest parade floats.
"I have had so much fun being a part of these events," said Shannon VanHouten, IC System business development specialist and the event's coordinator. "In a world where nothing is the same, and so much interaction with people is lost, being a part of something that brings us together is pretty special."
Learn more about IC System's charitable efforts in our community.

Brian Eggert is a business development specialist and writer for IC System, one of the largest receivables management companies in the United States. With 18 years in the collection industry, Brian's experience includes operations, client service, proposal writing, blogging, content creation, and web development.