2 Tips for Reducing No-Shows and Broken Appointments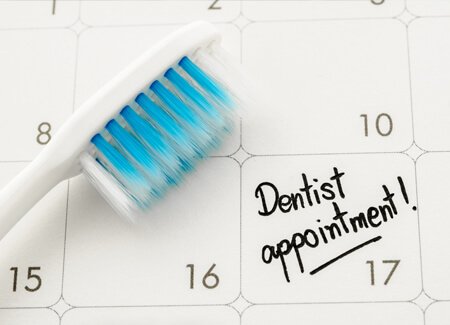 There are few things more frustrating to a dentist than patient no-shows. Broken appointments are both costly to your practice and can throw a wrench in your daily schedule. When patients miss appointments, not only do you and your staff waste a valuable block in your schedule, but you miss out on revenue that otherwise would have been earned.
So what are you doing to prevent these annoying and expensive occurrences? To help, here are a couple tried-and-true strategies for reducing no-shows and avoiding broken appointments:
Strategy #1: Appointment Reminders
While showing up for an appointment is ultimately your patient's responsibility, one proven method for reducing no-shows is simply a friendly phone call reminding the patient of his or her appointment. This call typically takes place about 24 hours before the scheduled appointment so that the patient has enough time to make sure the designated time works within their schedule. On these calls, just remember to stress the importance of the appointment and the patient's responsibility for the appointment – but in a friendly and positive manner. Oftentimes, dental appointments are made as far as six months in advance and patients will simply forget that an appointment is coming up. So a quick and easy phone call will often be all it takes to avoiding an unnecessary and likely unintentional patient no-show.
Already make manual patient reminder calls but want to free up some of your time? There are numerous automated technologies out there that can handle this job for you! Services like Appointment Reminder, Reminder Xchange, and ReRemind all allow you to simply set an appointment in your system, and then sit back as a customizable, automated message (phone call, email, or text) goes out to your patients prior to his or her appointment. Just set it and forget it. These automated methods will not only make your job easier, by allowing you to avoid those time-consuming, traditional reminder calls, but they will be highly effective in decreasing no-shows and costly broken appointments as well.
Strategy #2: Missed Appointment Charges
Do you charge your patients a reasonable, flat fee when they fail to show up for an appointment? Have you considered it? You owe it to yourself and your dental practice to be compensated when an appointment is broken. After all, you designated valuable time out of your busy schedule to be there for your patient. Shouldn't they be responsible for being there for you? But if you are going to charge your patients for missing an appointment, just be sure they are aware of it ahead of time! We suggest placing signage in your office and waiting room that lets patients know that if they fail to show up for an appointment without notice, that they will be charged a reasonable, flat fee. Also when making appointment reminder calls, inform patients of your billing practices and remind them that they will be charged a no-show fee if they miss their appointment.
These fees not only serve as a simple and effective preventative measure for avoiding patient no-shows, but also can be relied upon as a source of revenue when you do have broken appointments. However just remember charging patients no-show fees may not be legal in all states, so make sure you check with your state board and confirm that regional laws allow for this type of charge. And if it is permitted in your state, give it a try! We believe this small, flat fee can be highly effective for ensuring a reliable appointment schedule and for maintaining a healthy bottom line.
Need collection help?
Call us at 1-800-279-3511 to REQUEST PRICING!
Brian Eggert is a business development specialist and writer for IC System, one of the largest receivables management companies in the United States. With 18 years in the collection industry, Brian's experience includes operations, client service, proposal writing, blogging, content creation, and web development.