How Debt Collection Works: Client Success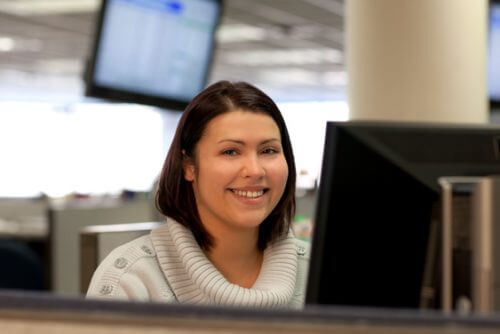 Business relationships last because of excellent service. No matter your industry, the level of service you receive will often shape whether you value the ongoing relationship. When you partner with a collection agency and have questions about their service, someone knowledgeable should be available to provide a friendly experience. You should also have access to an online portal that allows you to manage your collection inventory, run reports, and gain insight into your agency's collection effectiveness.
Just as IC System's collection teams strive to give your consumers a positive experience, our Client Success team hopes to make your day a little brighter with every interaction. Our "How Debt Collection Works" blog series continues with this look at how IC System empowers our clients with ongoing control of their account, as well as support from our friendly Client Success staff. IC System's Vice President of Client Success, Chris Morris, provides his perspective on ensuring client's successful outcomes when using collection agency services.
Service Philosophy
Every collection agency should have a service philosophy, a set of ideas that inform their interactions with their clients. Chris explains IC System's guiding principles of service: "Our company has always taken a very responsive approach to client needs. We want to be as helpful, present, and responsive as possible. Our goal is to help our clients achieve the outcomes they sought when originally purchasing our services, and to adapt as our client's business needs change. Further, we want to make sure clients have the relevant information they need to maximize the value of our services. When we approach the client relationship, we aim to be proactive and helpful."
Part of living up to the service philosophy is having the right people in place and making sure they are accessible. "We maintain a Client Success department that is trained in all aspects of our business," says Chris. "They do not follow a script, so our clients can have genuine and informative interactions. We also offer multiple methods of contact to make it easy for clients to get in touch. We're available by phone, email, or through our client portal Online Tools."
Onboarding
Good service starts from the moment IC System signs an agreement with a new client. The relationship begins with a welcome call that ensures our clients are equipped with the tools and information they need to succeed.
"Our welcome calls are designed to onboard new clients and provide instructions on how to manage their accounts and communicate with IC System," says Chris. "This is all about getting clients off on the right foot. We make sure that clients have access to our Online Tools, know how to use them, and know how to effectively manage their inventory at IC System in a way that serves their business needs."
Online Tools that Empower Clients
IC System's Online Tools platform empowers our clients to manage their inventory in a user-friendly interface. Through the secure portal, clients can submit accounts, generate reports, view statements, track progress, and update information.
"Having 24/7 real-time access is really important for our clients," Chris says. "For that reason, IC System makes sure that we are transparent about our work effort. Our clients can see the number of calls made and letters sent on each account, and even read the notes made by collection representatives. We're an open book at IC System. We're not going to hide work effort. We're going to provide a high level of integrity and transparency in our service."
Ongoing Engagement with Reporting
Regular communication is key to the success of any business relationship. To that end, IC System uses a recurring report that shares important, potentially time-sensitive details about individual accounts.
"We have a built-in process to answer questions and interact with clients using what we call 'Special Activity' reports," Chris explains. "We see this as a partnership, and so we share information in the common goal of protecting your relationship with your consumers and recovering money to help your business run effectively."
The information shared on the Special Activity report includes payment verifications, settlement inquiries, bankruptcy notifications, and other questions about specific accounts.
IC System also offers a suite of reports that our clients use to measure performance. "We make sure that we meet you where you want to be met from a reporting standpoint," Chris says. "When we onboard a new client, we learn about the information that is important to them, and we can help them select the report that best suits their needs."
The Value of Human Beings
Collections can get complicated. Inevitably, you will have questions pertaining to disputes, payment claims, timing issues, settlement authority, and many other situations that will arise day-to-day. While it's great to have Online Tools as a self-serve tool, there's no substitute for human interaction via phone or email.
"When you think about a collection agency, you might get the sense of a large, impersonal, corporate entity," Chris says. "One of the things that sets IC System apart from other agencies is that our clients work with a team of dedicated personnel. Our Client Success department will be there for you when you're working with us to recover your past-due accounts. However you communicate with us, you will learn their names, and they will understand your situation and respond accordingly."
Need additional help now? Learn more about How Debt Collection Works.

Brian Eggert is a business development specialist and writer for IC System, one of the largest receivables management companies in the United States. With 18 years in the collection industry, Brian's experience includes operations, client service, proposal writing, blogging, content creation, and web development.