How Debt Collection Works: Finding a Collection Partner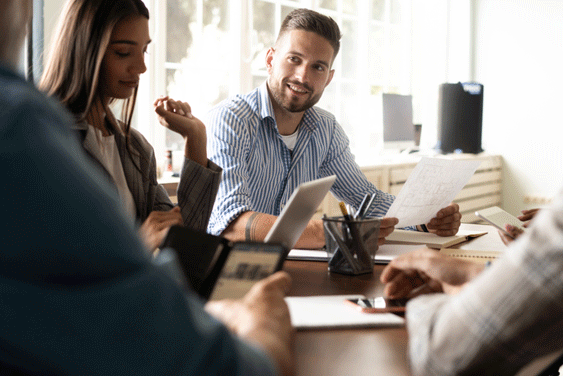 You know that your business or practice needs a collection partner, but you're not sure about what qualities should drive your decision-making process. In this series of informative blogs by IC System about accounts receivable management, some of our tenured experts will provide their insights about various aspects of the debt collection process.
The first question is, of course, how do you find the best collection partner for your business? Hint: the word "partner" is a key indicator of the kind of collection agency you should seek out. To answer this question, I talked to Bryan Campbell, a Business Development Manager at IC System, to mine his decade-plus experience in sales and collections.
How do I know that I need a collection agency?
Maybe you've tried collecting debts on your own to no avail, but you're unsure about whether you need to engage a collection partner. "Typically, someone begins to search for a partner when attempts at a resolution on past-due accounts have proved fruitless," Campbell says. "The business or practice has receivables that are past 90 days, and they are spinning their wheels internally." But debating the need often prolongs a decision, and during that time, your accounts receivables are losing their value.
Waiting on past-due accounts will significantly decrease their value. After 90 days of delinquency, an account is worth just 87% of its original value. But the value drops to a shocking 33% of its original value after 120 days. "That's real money out there for a business or practice," adds Campbell. "We also see it occurring much further along than this. In some cases, waiting too long makes it too difficult to collect on the receivables. But, once you select a partner, you can begin a process to straighten out your accounts receivables and not to be constantly attempting to play catch up."
What should I be looking for in a collection partner?
Initially, there are price points and programs to consider. Depending on your industry, needs, and inventory, contingency rates and retainer amounts may vary. Have a detailed discussion with any potential partner about ROI, from their fee rates to the expected recoveries. Price is important; however, it's not everything.
Campbell argues that it's important to "Look for a partner that will best represent your interests with how they carry out their business. How the agency treats people should be in line with your business philosophy. Find a group that is transparent in their work efforts."
You should also ensure a collection partner has a proven ability to work your past-due accounts to the fullest. Campbell notes, "An agency that is nationally licensed is a must. Our internal data reveals a need for a collection agency to be licensed in all 50 states, due to the transient nature of the US population."
More specifically, it's important to determine if the collection agency can show that they have been successful with other businesses like yours. "A track record of results and success in the area of your business would be a prerequisite for me," says Campbell.
How does a business know it found a good collection partner?
As suggested above, recoveries are the simplest and most common way of gauging a collection partner's success. "There is more than that though," Campbell adds. "Our company lives a set of core values which are fundamental. I would expect my values to align with any partner that I do business with."
Indeed, higher returns from a collection agency are all well and good, but if they generate a high volume of complaints or ruin your existing consumer relationships, this can lead to long-term costs that may not be immediately apparent.
Campbell explains, "I would ask, how do they treat people both internally and externally? Does this meet my standards? Can I trust this organization? Are they doing things in a forward-thinking way? They will be an extension of my business, so they better answer with a strong affirmative."
That's the Secret: An Extension of Your Business
Campbell's idea that a collection partner is an extension of your business or practice is crucial. More than just a commodified service that can be bought and exchanged for something better, a collection partner should work seamlessly with your office and, in many ways, be an integral part of your office's operations.
For that reason, your business should think of a collection partner as an addition to your office's processes rather than something separate. Just like when you hire an employee, a collection agency should have the appropriate skills, but they should also fit with your business' philosophy.
In the next entry of this How Debt Collection Works blog series, we'll talk specifically about collection products and procedures, and what unique offerings your business or practice should be using.
Need additional help now? Learn more about How It Works.

Brian Eggert is a business development specialist and writer for IC System, one of the largest receivables management companies in the United States. With 18 years in the collection industry, Brian's experience includes operations, client service, proposal writing, blogging, content creation, and web development.