Working with Healthcare Associations Through the Pandemic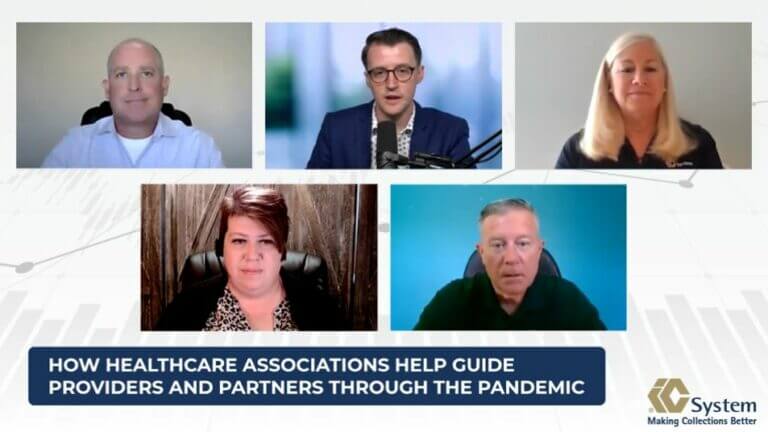 There isn't a single industry unaffected by COVID-19, but few have been more impacted than the healthcare industry. While the pandemic bombarded healthcare providers, their receivables were thrown into a state of flux. Given the effects of the pandemic, could providers continue to send past-due accounts to collections? Did they even have the time to deal with their AR? Many providers and collection agencies relied on information and legislation updates from healthcare associations such as the American Association of Healthcare Administrative Management (AAHAM) and the Healthcare Financial Management Association (HFMA).
Several of IC System's subject matter experts hold significant roles at AAHAM and HFMA. They gathered for a video roundtable, called How Healthcare Associations Help Guide Providers and Partners Through the Pandemic, to discuss industry trends in healthcare collections and what role healthcare associations play during an unpredictable time.
Bart Shea, VP of Business Development at IC System, currently serves as the President-Elect of the HFMA Arizona Chapter. "The HFMA has been instrumental," Bart said, "in letting the group and the membership throughout the United States just kind of know what's going on throughout the different regions."
One of the major advantages of HFMA during this time was educational resources, according to Mary Prendergast, VP of Business Development at IC System and Education/Program Chair at the Virginia-Washington DC Chapter of HFMA. She said, "Keeping members engaged has been hard because of this virtual world, so they've done an exceptional job at providing great education, continuing education to all of their members, which is required."
HFMA and AAHAM supplied necessary communications to members about new legislation and regulatory changes. "There's been tremendous education and legislative updates from the organization," added Paul Fitzpatrick, an IC System VP of Business Development and President of AAHAM's Connecticut Chapter.
Kristina Gursky, IC System's Director of Healthcare Client Success and a member of AAHAM's newly formed National Patient Financial Advocate Task Force, talked about the role AAHAM played in keeping up with these changes. But she also stressed the importance of IC System "having a really strong compliance team in our own shop to keep up with all the pending legislations."
IC System adapted to the changes throughout the pandemic with the help of these healthcare associations. Kristina explained how IC System had to remain attuned to the dynamic situation with their help: "Being able to keep up with all of the pending changes, and what you're able to work and what you're not able to work—having those systems in place to communicate that out was so important for us."
To learn more about how IC System and organizations like the HFMA and AAHAM maneuvered through the pandemic, watch the full roundtable: How Healthcare Associations Help Guide Providers and Partners Through the Pandemic.
Brian Eggert is a business development specialist and writer for IC System, one of the largest receivables management companies in the United States. With 18 years in the collection industry, Brian's experience includes operations, client service, proposal writing, blogging, content creation, and web development.