Find Revenue in Your Late-Stage Healthcare Receivables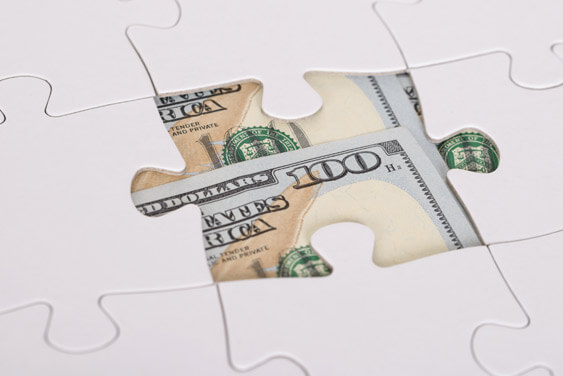 If you're like most mid-size or larger healthcare organizations, chances are you only have a single-tier strategy for your receivables. You place your past-due accounts with one or more collection agencies, and they attempt to recover a portion of the inventory, and that's where collection efforts end. Many health systems in the industry manage their debt this way. But adding another layer to your collection process with a late-stage recovery strategy can help you find revenue that may have been abandoned by your initial agency.
The Problem of Older Inventories
Most agencies have a plan to work healthcare debt for about 180 days. After this initial period, an agency will usually reduce their work effort because there's less chance of recovery as your patient debt gets older.
Our studies show that your inventory is worth just 87% of its original value after 90 days of delinquency. At 120 days, the inventory's worth drops to a staggering 33% of its initial value. While this data stresses the importance of sending your accounts to a collection agency sooner than later, it also demonstrates why many agencies either stop or scale back their work on older accounts.
Moreover, because your collection agency may maintain those accounts in their inventory, sometimes for several years, your accounts may sit dormant and unworked after the initial few months of collection efforts.
Reactivate Late Stage Accounts
When your older inventories have been worked to exhaustion, you require a new strategy to reactivate them and find revenue that may have been missed.
Your past-due patients have received the same collection communications for months by this time. They have grown accustomed to seeing your current collection agency's logo or letterhead, and the same phone numbers, same texts, same emails, etc. However, using a secondary collection strategy that applies a new approach can find valuable revenue in your inactive accounts.
The New Strategy
IC System has a debt revival process that looks at previous strategies with a critical eye. When you place a late-stage inventory with us, we look at what kind of collection efforts have been attempted in the past. We also look at demographics such as balance size, credit history, the age of the account, and any supplied history.
Using this data, we employ unique analytical modeling to determine the best course of action. We also use a segmentation process that helps ensure the right efforts are made on the right accounts. This maximizes the results on older debts that would otherwise go uncollected.
Additionally, IC System performs data scrubs on accounts. We look for new addresses and phone numbers; we also look for bankruptcies and other disqualifying information. Part of our strategy entails regularly monitoring for new data.
Once your inventory has been scrubbed and segmented, IC System performs a targeted call and letter plan on the higher probability accounts. This process ensures the highest levels of netback.
Credit Reporting and/or Credit Monitoring
Credit reporting can be a highly useful tool for late-stage accounts, and IC System can report eligible accounts to the major bureaus. Patients trying to acquire a new line of credit will inevitably learn of this and attempt to resolve the account.
IC System's credit monitoring program is a highly effective alternative (or addition) to credit reporting. The program monitors for positive changes in the responsible party's credit file. These changes could include:
Employment updates
Mortgage inquiries
New tradelines opened
Old tradelines paid
Recreational merchandise inquiries
IC System focuses on 25 positive events. When a positive change in the patient's credit activity indicates that they may be able to pay, we respond to ensure your account is at the top of the patient's list to resolve.
The System Works
Many of IC System's thousands of healthcare clients use this late-stage recovery plan to augment their existing strategy and find revenue. IC System recovered nearly $1 million in a calendar year for one healthcare client using this plan.
To learn more about the plan and how it can help your healthcare organization, download our Whitepaper: Improving Patient Collections by Adding Another Tier to Your Debt Strategy.

Brian Eggert is a business development specialist and writer for IC System, one of the largest receivables management companies in the United States. With 18 years in the collection industry, Brian's experience includes operations, client service, proposal writing, blogging, content creation, and web development.