IC System's Kristina Gursky Joins New AAHAM Task Force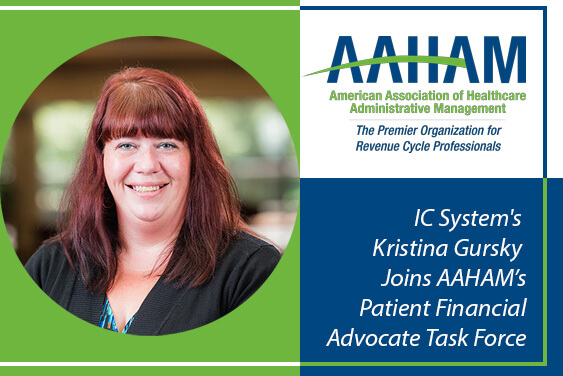 The American Association of Healthcare Administrative Management (AAHAM) has announced that IC System's Director of Healthcare Account Management, Kristina Gursky, will be part of the newly formed National Patient Financial Advocate Task Force.
AAHAM developed the Task Force to review the standards of the healthcare industry; specifically, the practices and procedures involving patient financial interactions. The Task Force will work together to craft a code of ethics and standards for AAHAM's members, create recommendations for the ever-changing industry, and remain an available resource as patient experience guidelines change.
Kristina Gursky has been a valued member of IC System's leadership for over fifteen years. She has developed from roles in business analytics and strategy to becoming a subject matter expert in the healthcare industry, which represents nearly seventy-five percent of IC System's client mix. Gursky joins ten other healthcare experts on the National Patient Financial Advocate Task Force.
"It's an exciting development for AAHAM, especially during these challenging times," said AAHAM President, Lori Sickelbaugh, CRCE, in the organization's announcement. "The Task Force will play an important role in developing materials to better serve patients and provide support to help with the understanding of their medical bills. The Task Force brings together thought leaders from several industries, all offering unique expertise and leadership,"
"AAHAM continues to prove its vital role in the profession," stated John Currier, CRCE, AAHAM Chair of the Board. "With this Task Force, we have an opportunity to begin the discussion of a larger role for patient financial advocates when it comes to working with, and supporting patients in understanding this complex maze of healthcare," added Currier.
Gursky's role on the Task Force offers IC System, a leader in healthcare accounts receivable management, unique insights in the AAHAM's high standards for the patient financial experience.
Chris Morris, IC System's Vice President of Client Service, observed, "The healthcare industry is constantly changing, and AAHAM's benchmarking will help establish how providers and their vendors deal with patient financial matters. This marks an exciting development in the fluctuating world of medical billing; the industry is sure to evolve for the better because of this Task Force."
Gursky added, "Patient billing has evolved beyond simply asking the patient how they would like to pay their bill. By participating in this Task Force and adopting its standards and recommendations, IC System can continue to be an industry leader in treating patients with empathy and respect when it comes to finding a resolution for the patients our clients serve."
Learn more about how IC System's compassionate approach to collections.

Brian Eggert is a business development specialist and writer for IC System, one of the largest receivables management companies in the United States. With 18 years in the collection industry, Brian's experience includes operations, client service, proposal writing, blogging, content creation, and web development.