IC System's Tamara Ward Earns Young Professional Certification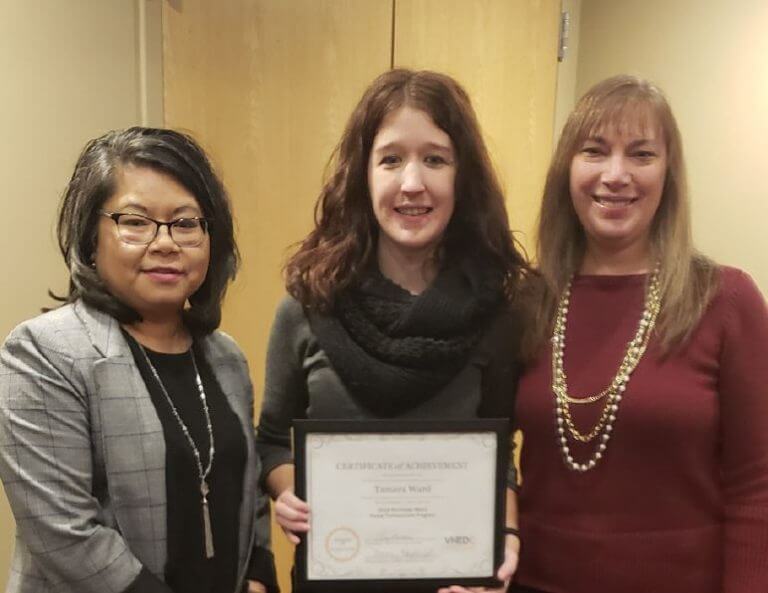 Helping the community is incredibly important to IC System, which is why we are proud to announce that Client Service Representative Tamara Ward has completed an extensive professional leadership initiative with the Northeast Metro Young Professionals Group (NMYP). The NMYP is a program developed by the Vadnais Heights Economic Development Corporation that seeks future leaders between the ages of 21 and 35 who are "committed to personal growth, career advancement, civic engagement, and service to the northeast metro area region." Tamara completed the program at the end of 2018.
The NMYP selects 12-20 individuals and, in 2018, Tamara was among the 14 candidates selected. Over the 11-month process, the group of hand-picked candidates meets with community leaders once a month for local tours, social events, and community organization training. For instance, the NMYP toured downtown White Bear Lake businesses to understand better how the community benefits from strong relationships between businesses and the public.
Nancy Hoglund, President of Hoglund Coaching LLC and leadership trainer for the NMYP, observed, "Tamara is a very genuine person. She has brought a level of vulnerability and openness to the group. She contributes to conversation, is enthusiastic, engages others, and has been thoughtful in how she takes in and applies learning. It's been a pleasure having her in the group."
Tamara was initially drawn to the program to try something new while making connections with people within the community, as well as developing her leadership skills.
"It was a great experience," Tamara said of her NMYP achievement. "It allowed me to network with other individuals in the community and build lasting relationships. It also gave me the opportunity to learn about the community—things I would never get to do outside of the program. For instance, we got to tour CHS field, the largest eco-friendly ball field. I learned about how they manage their recycling program with a sticker system to help people organize their recyclables, which was really impressive and inspiring."
Tamara started with IC System in 2016 as a Patient Financial Representative. She quickly impressed her supervisors and advanced into a Lead position. For a year and a half, Tamara has succeeded in a Client Service role for one of the company's largest healthcare clients. With her new achievement, Tamara is bound to be one of IC System's future leaders.
If you or someone you know has similar aspirations to Tamara and wants to become a stronger presence in your business and community, the application process for the Northeast Metro Young Professionals Group's 2019 session is now open and ends on January 15. Young professionals in the North East Metro area are encouraged to apply.

Brian Eggert is a business development specialist and writer for IC System, one of the largest receivables management companies in the United States. With 18 years in the collection industry, Brian's experience includes operations, client service, proposal writing, blogging, content creation, and web development.