Overcoming Telemedicine AR Collection Challenges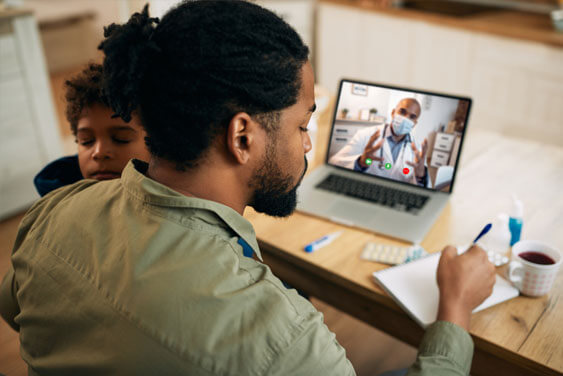 Many healthcare providers have adjusted their services to a combination of telemedicine and office visits to meet patient demand under safe conditions. Unfortunately, some providers remain wary of offering a telemedicine alternative due to the risk of nonpayment, and telemedicine faces many of the same problems of nonpayment that occur during in-office visits. Does that mean telemedicine isn't a viable alternative to office visits and should be avoided? Not at all.
It's understandable why some healthcare providers question the value of telemedicine. But one study among neurosurgeons supplied a list of reasons for their misgivings about telemedicine, and the reasons seem evergreen for all types of healthcare, during a pandemic or otherwise: "nonpayment of consultations, the nonreimbursement of expenses," along with "the difficulty in protecting patient data, the importance of a direct doctor-patient communication."
Despite provider uncertainties, telemedicine remains a viable option to increase patient visits, especially given the recent visit decline. To be sure, many healthcare providers continue to struggle to increase patient visits to their pre-pandemic levels. Medical Economics notes that many providers hoped to reach 75% of their pre-pandemic patient visits by mid-summer 2021. But given the increase in Delta variant cases, reaching that goal has proved difficult. Thus, it seems that for the immediate future, telemedicine remains a necessity to maintain or grow the number of patient visits.
So how do providers respond to nonpayment challenges associated with telemedicine?
One solution is requiring upfront payment. When possible, it's best to collect the copay and any other applicable costs upfront when scheduling telemedicine appointments. This is easiest when patients make the appointment online and enter their credit card information to confirm the appointment. But in situations where a patient calls and speaks to someone in the office to book a telemedicine appointment, it can be difficult to acquire payment information. Office managers should train the office staff to prioritize payment acquisition in such situations.
Another solution is taking a more responsive approach to nonpayers in telemedicine situations. Many providers wait anywhere from three to six months (sometimes much longer) before sending a patient into collections, fearing that a collection agency will anger the patient and damage the patient-provider relationship. That's where working with a collection agency that has patient advocacy in mind makes all the difference.
IC System trains its healthcare representatives to speak to patients intelligently and educate them about their financial responsibilities. It's more of a financial consultancy than what people usually think of when they imagine a collection call. We work with patients to explain their bills and come to a satisfying resolution for all parties. Our approach gives providers the peace of mind they need to send accounts to collections at an earlier stage.
The earlier providers send accounts to collections, the more revenue IC System can recover on their behalf. With this in mind, we encourage providers to submit collection accounts sooner, around 60 days, for better financial outcomes for both the patient and provider. Time is of the essence, especially in telemedicine situations where the link between patient and provider is less tangible than an in-office visit.
Moreover, IC System surveys patients after every call to uncover an objective metric that speaks to the level of patient satisfaction. We survey over 15,000 consumers every month, and over 99% of those surveyed have responded that IC System treated them professionally in their collection call. Knowing this, providers can feel assured their telemedicine patients will be treated in an ethical, professional manner on the phone.
Visit our healthcare page to learn more about IC System's ethical approach and solutions for healthcare providers.

Brian Eggert is a business development specialist and writer for IC System, one of the largest receivables management companies in the United States. With 18 years in the collection industry, Brian's experience includes operations, client service, proposal writing, blogging, content creation, and web development.