IC System Honored with Brainier Award for Employee Development Program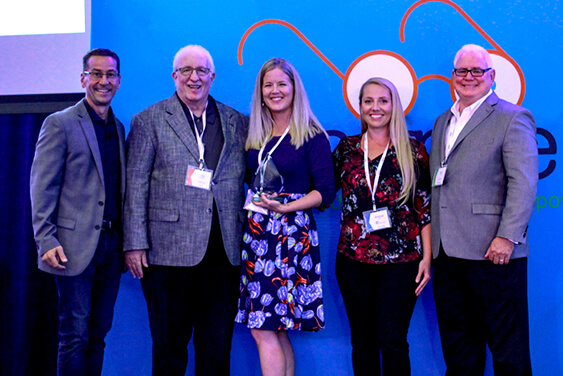 IC System is proud to announce that it received the "Customer Excellence Award – Developing Leadership/Blended Learning" from Brainier at the 2018 E3Learning User Conference held September 17 and 18 in Minneapolis. IC System received the award for their employee training and development program, called Leaders of Tomorrow. The award-winning program cultivates employee talents, teaches them new skills, and ensures tenure with the potential for advancement and continuous engagement.
Leaders of Tomorrow was started by IC System's Training Manager Robin Borneman, Training and Development Supervisors Andrea Hall and Chanel Bell, and Operations Supervisor Marc Jacobson. Together, they oversee a ten-week training regimen designed to familiarize future IC System leaders with the skills, tools, tactics, and philosophies for an ideal member of the company's management staff. Whether employees have ambitions to advance in the collections department or move into another department, Leaders of Tomorrow can help them prepare.
Members of IC System's leadership team review all applicants and choose several candidates twice a year. Once accepted into the Leaders of Tomorrow program, candidates begin a series of courses and training sessions with members of IC System's executive team, directors, and managers from various departments. Over the course of ten weeks, participants in the program will also get to know department heads who provide guest lectures, which familiarize attendees with the responsibilities and tasks of leaders throughout the company.
Robin Borneman, who spearheaded the program, explained, "When someone completes the LOT program, they are learning skills that can assist them at IC System or any role they may apply for. We are investing in the individual just as much as the company."
11 organizations in all won similar learning excellence awards from Brainier, a Minneapolis-based learning and development company that uses e-learning, in-house training, and mobile-based training courses to grow businesses and their employees. IC System uses Brainier's LMS platform to train and develop its employees through the Leaders of Tomorrow program.
"We are continually impressed by our award winners," says Brainier CEO Jerry Cox. "Their ability to adapt our platform to their learning and development plan really proves our mantra of Educate. Engage. Empower."
Brian Eggert is a business development specialist and writer for IC System, one of the largest receivables management companies in the United States. With 18 years in the collection industry, Brian's experience includes operations, client service, proposal writing, blogging, content creation, and web development.