IC System Prepares for the Big Game with Drive-Thru Event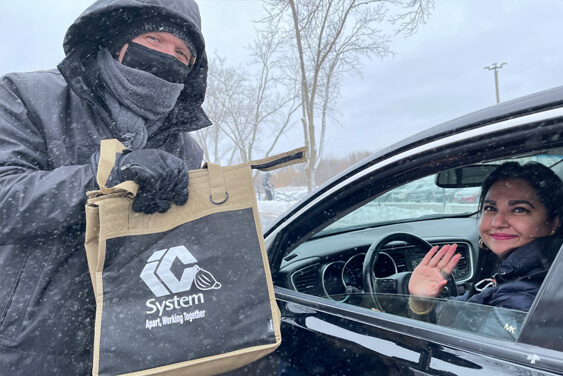 The pandemic has been especially difficult for companies that, under normal conditions, have strong cultures with a packed social calendar. Organizations accustomed to team-building or workplace events have had to improvise, many of them moving to remote video alternatives. While IC System also made the switch to some video-based social events, we have also tried to maintain an in-person connection, under the safest possible conditions of course.
Almost every month since COVID-19 reached the United States, IC System has organized monthly drive-thru events for our employees, both those working in the office and those working remotely. In February, the event centered around the NFL's Big Game.
On Thursday, February 4, employees drove to their local office—either at our headquarters in St. Paul, Minnesota, or the branch office in Onalaska, Wisconsin. Each employee picked up a Game Day Party Pack, enough to feed a family and enjoy during the face-off between the Tampa Bay Buccaneers and Kansas City Chiefs.
IC System distributed over 400 Game Day Party Packs to employees, despite the snowy conditions. Even amid a small snowstorm, IC System's native Minnesotans and Wisconsinites faced snow and slippery roads for their Party Pack.
Many masked IC System staff and leadership team members were in attendance to distribute the Party Packs. Each pack contained a miniature football, a large bag of Doritos, a 2-liter bottle of soda, and a 16″ frozen pizza made from scratch by a local caterer, Stonehouse Custom Catering.
"Of all the drive-thru events we have done this past year, the Game Day event was the most impressive to me," said Stacy Biehn, one of the event's organizers. "The weather that day was very cold, with chilly winds and some snow, but IC volunteers still came together to help hand out pizzas. And those that went through the line braved slippery roads to help make the event a success."
IC System would like to thank all employees and Stonehouse Custom Catering for making February's drive-thru event a huge win (for everyone but the Chiefs).
Brian Eggert is a business development specialist and writer for IC System, one of the largest receivables management companies in the United States. With 18 years in the collection industry, Brian's experience includes operations, client service, proposal writing, blogging, content creation, and web development.