IC System Partners with eClinicalWorks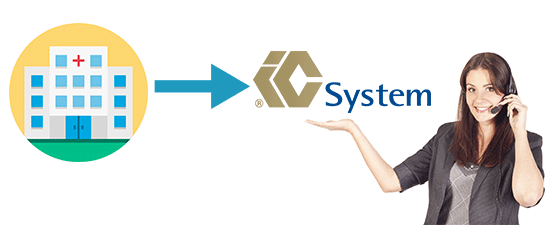 IC System, a leader in the healthcare accounts receivable industry, has partnered with eClinicalWorks, a trailblazer in healthcare technology solutions, to offer medical care providers a modern and efficient collection solution. Users of the eClinicalWorks practice management system can now automatically connect their account to IC System. The new partnership will save providers time and give them access to an improved account recovery process for bad debt and self-pay collections.
Providers engaged with eClinicalWorks' electronic health record (EHR) and Revenue Cycle Management solution can now connect to IC System and submit accounts to their proven collection process. eClinicalWorks users (with V11 and 11e) select accounts that are ready for collections and then submit them to IC System with a few simple clicks. The electronic process securely transfers those accounts to IC System, where they will receive patient-friendly collection practices that result in a higher rate of recoveries.
"Running a healthcare office is tough. Practices in the medical industry already have enough to deal with in the back office without spending hours upon hours on their accounts receivable," said John Erickson Jr., President and CEO of IC System. "This partnership between IC System and eClinicalWorks means that providers can save time by effortlessly placing accounts into collection. Users also have full access to our Online Tools portal where they can monitor progress on accounts, run additional reporting, and gain full transparency with our data-secure client portal. Ultimately, the partnership allows providers to concentrate on what's important, improving the health of their patients, while IC System takes care of the collection process."
IC System handles over 12 million debts (nearly $6 billion in dollars placed annually) in their inventory and manages over 6,500 healthcare clients. Their mission to be the best, most trusted provider of receivables management services to original creditors has guided their family leadership for three generations and 80 years. In addition to being named a 2018 Top Workplace by the Minneapolis Star Tribune, IC System is endorsed by over 450 professional healthcare and trade associations/societies.
Using eClinicalWorks' solution in conjunction with IC System provides a streamlined revenue cycle workflow, while IC System's methods of providing a positive patient experience maintain the provider's relationship with their valued patients.
Brian Eggert is a business development specialist and writer for IC System, one of the largest receivables management companies in the United States. With 18 years in the collection industry, Brian's experience includes operations, client service, proposal writing, blogging, content creation, and web development.