IC System Leaps at the 2021 Polar Plunge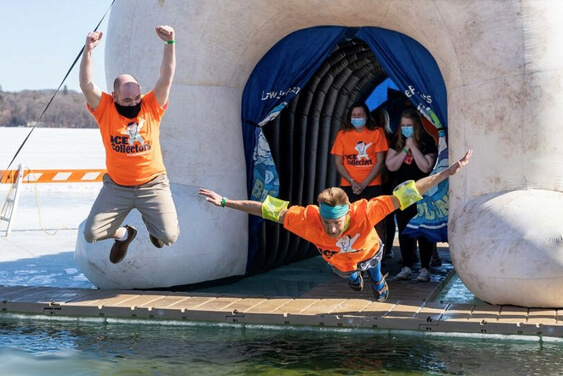 The weekend is the perfect time to head to the beach. That's exactly what volunteers from IC System did on Saturday, March 6, in chilly temperatures on a frozen lake. It was the 2021 Polar Plunge in Minnesota, and while it wasn't prime beach weather, the event was for a great cause.
Polar Plunge volunteers gathered at Ramsey Beach in White Bear Lake. Sixteen IC System employees in all helped raise money for the event, and ten employees took the plunge. IC System's in-house Employee Charitable Help Organization, called ECHO, organized volunteers for the event.
Even though the outside temperature wasn't below freezing and hardly a challenge for the average Minnesotan, anytime you're jumping into an opening on a frozen lake, it's bound to give you a chill. Fortunately, heated changing tents provided quick relief from the icy waters.
"The 2021 Polar Plunge was very different this year due to COVID-19," explained volunteer Nicole Mueller. "Typically, the White Bear Lake Polar Plunge is held in January. This year it was pushed back to March 6. There were little to no spectators allowed, and teams were asked to arrive only 15 mins before their designated plunge time."
Despite these safety restrictions, everyone had a fun time and helped raise funds for an excellent cause. Nicole added, "While the air temp was in the 40s, the water was still freezing! Things may have looked a little different, but the event was still a lot of fun and raised money for a great charity, Special Olympics MN."
Altogether, IC System employee contributions raised a total of $3,862, while all of the White Bear Lake plungers raised a grand total of $261,132 for Special Olympics MN.
Thank you to the 2021 Polar Plunge event organizers for coordinating the volunteers and supporting a worthy cause.
Brian Eggert is a business development specialist and writer for IC System, one of the largest receivables management companies in the United States. With 18 years in the collection industry, Brian's experience includes operations, client service, proposal writing, blogging, content creation, and web development.