IC System Receives 2021 insideARM Best Places to Work in Collections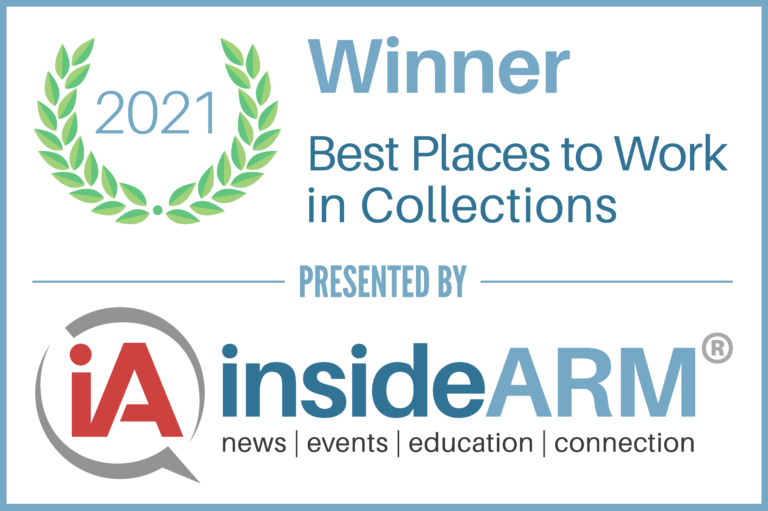 IC System is proud to announce it has been selected by insideARM as one of the 2021 Best Places to Work in Collections. insideARM is the leading independent news and information provider for the collections industry.
In its 14th year, the program is administered by Best Companies Group, which conducts more than  60 local, national and industry "Best Places" programs each year.
This survey and award program is designed to identify, recognize, and honor the best places of employment in the collections industry. This year, 56 companies met the standard to be selected. The Best Places to Work in Collections list is divided into three size categories: Small (15-49 employees), Medium (50-149 employees), and Large (150+ employees). IC System ranked 7th in the Large category.
To be considered for participation, companies must fulfill the following eligibility requirements:
Be a for-profit or not-for-profit business or government entity
Be a publicly or privately held business
Have a facility in the United States
Have a minimum of 15 employees in the United States
Must be in business a minimum of 1 year
Must be a Collection Agency, Collection Law Firm, Debt Buyer, or Creditor Recovery Operation
Companies from across the U.S. entered the rigorous two-part survey process to determine the Best Places to Work in Collections. The first part consisted of evaluating each nominated company's workplace policies, practices, philosophy, systems, and demographics. The second part consisted of an employee survey to measure the employee experience. The combined scores determined the top companies and the final ranking.
"IC System is grateful to be recognized by insideARM," said John Erickson, President and CEO. "Most of all, this award shows us that our people enjoy working here. We strive to make IC System a fun, stable, and supportive work environment for our employees. This distinction shows that our staff enjoy their careers, feel part of the venerable IC System family business, and feel fulfilled in contributing to our purpose of Making Collections Better."
For more information on the Best Places to Work in Collections program, visit: http://www.insidearm.com/best-places-to-work/ 

Brian Eggert is a business development specialist and writer for IC System, one of the largest receivables management companies in the United States. With 18 years in the collection industry, Brian's experience includes operations, client service, proposal writing, blogging, content creation, and web development.