IC System Golfs for Charity in 2020 Tournament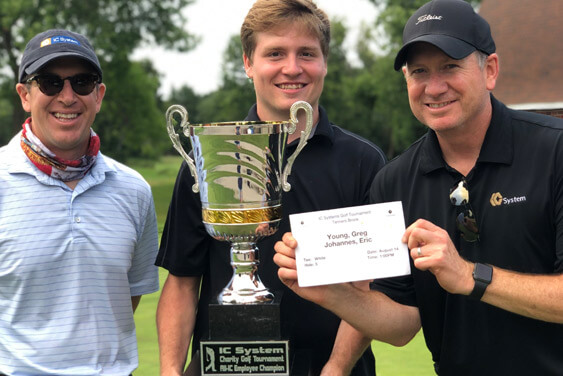 For 22 years, IC System has held an Annual Charity Golf Tournament. The sponsors and venues have changed, but every year, the company has gathered on the course to raise money for great causes. With COVID-19 presenting all sorts of challenges for the 2020 tournament, IC System nonetheless raised a record-breaking $22,116 for organizations in need with this year's competition.
The event was organized by David Gunderson, Mike Selbitschka, Rocky Bzdok, and Allison Johnson on behalf of IC System's in-house volunteer group, ECHO (Employee Charitable Help Organization). Golfers arrived at Tanners Brook Golf Course in Forest Lake, Minnesota, for an afternoon of 18 holes. Even with the coronavirus creating some restrictions, the weather cooperated, and everyone had a great time contributing to a worthy cause.
Over 30 of IC System's vendors and partners donated cash and prizes for the event. The total donations of $22,116 were divided between three organizations: Can Do Canines, a group based in the Twin Cities and dedicated to enhancing the quality of life for people with disabilities using specially trained dogs; A Soldier's Child Foundation, which serves the Gold Star Children of military personnel who have lost their lives on active duty; the American Cancer Society, the nationwide, community-based health organization dedicated to eliminating cancer.
The day's course games included a putting challenge, a chip for charity contest, a drive challenge, and others. The team with the best score (lowest overall team score) received the coveted IC System Golf Tournament trophy until next year's tournament. Bryan Campbell, Eric Johannes, Logan Schleicher, and Greg Young composed the winning team.
Rocky Bzdok summed up the event saying, "We had another record-breaking year even with having to deal with COVID. We had some generous support from our sponsors. The golfers had a great time, and we were able to provide the fundraising games even with social distancing."
Learn more about IC System's charitable efforts in our community.

Brian Eggert is a business development specialist and writer for IC System, one of the largest receivables management companies in the United States. With 18 years in the collection industry, Brian's experience includes operations, client service, proposal writing, blogging, content creation, and web development.