IC System Goes Shopping for A Soldier's Child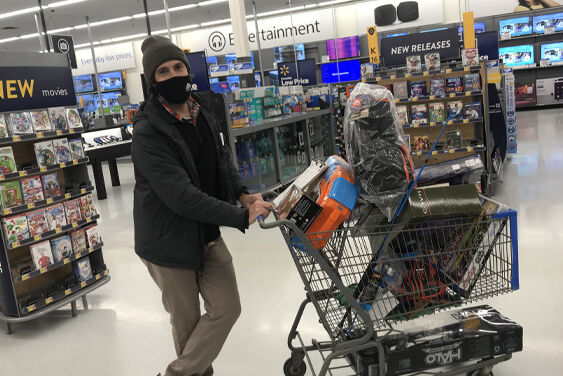 Leaders and volunteers from IC System went shopping on Veterans Day to help support the children of America's fallen soldiers on behalf of A Soldier's Child Foundation (ASC). IC System employees joined Daryl Mackin, Founder & Executive Director of ASC, at the Wal-Mart in Vadnais Heights, Minnesota, to purchase presents for 47 children with birthdays in December.
ASC is a non-profit organization that was formed to serve children who have lost a parent in military service with birthday gifts, mentorship programs, and college scholarships. They currently serve all branches of the U.S. military and have delivered gifts to more than 2,500 children across all 50 states. By working with ASC, IC System celebrates its most important Core Value of People by volunteering to help enrich and support the community.
IC System's in-house volunteer group, ECHO (Employee Charitable Help Organization), helped organize the shopping event, which was also attended by members of the company's leadership team: John Erickson, Jr., President & CEO (pictured above); Kurt Heinbigner, COO & CFO; and Chris Morris, Vice President, Client Services.
ASC has been one of many charitable organizations supported by IC System's efforts in the community. Over the summer, the company's annual charity golf tournament raised over $7,000 for ASC. The shopping event was another way for IC System to support both the local and national community through ASC.
"For me, it was a humbling experience, especially shopping for children of fallen soldiers on Veterans Day," said Nicole Mueller, IC System employee and co-chair of ECHO. "These children have had to deal with a lot at a young age, so for us to be able to go and buy a few items to make their birthday even more special was heartwarming. I am in awe of the way A Soldier's Child Foundation cares and is so passionate about their cause."
A Soldier's Child works to make the birthdays of children from ages 11 to 18 special, committing $150 in five hand-selected gifts for each child. IC System employees each shopped for several children and worked from a list of the child's hobbies and interests before selecting the perfect gift. For instance, Nicole shopped for an 11-year-old girl interested in arts and crafts; she picked out gifts such as art supplies and a doodling journal. IC System employees also helped prepare the gifts with wrapping paper, ribbons, and bows. The volunteers also packed and shipped presents to their recipients.
Mackin, who flew to Minnesota from Tennessee to assist with the shopping and wrapping personally, takes great care to ensure that every child has an extra special birthday. He shared a story about receiving a letter from a child who lost a parent. The child asked, "Did it matter, and does anybody care?" Mackin's organization helps show that it does matter, and people care.
"I think that I can speak for everyone that shopping for the kids was a great and humbling experience," added Rocky Bzdok, another IC System volunteer. "A Soldier's Child has provided IC System the opportunity to impact the lives of these children of fallen soldiers. We know that what we are doing is such a small piece, but it will impact the lives of these children in such a positive way. It was an honor to be part of this project."

Brian Eggert is a business development specialist and writer for IC System, one of the largest receivables management companies in the United States. With 18 years in the collection industry, Brian's experience includes operations, client service, proposal writing, blogging, content creation, and web development.