David Gunderson Selected among VHEDC's 2018 Rising Stars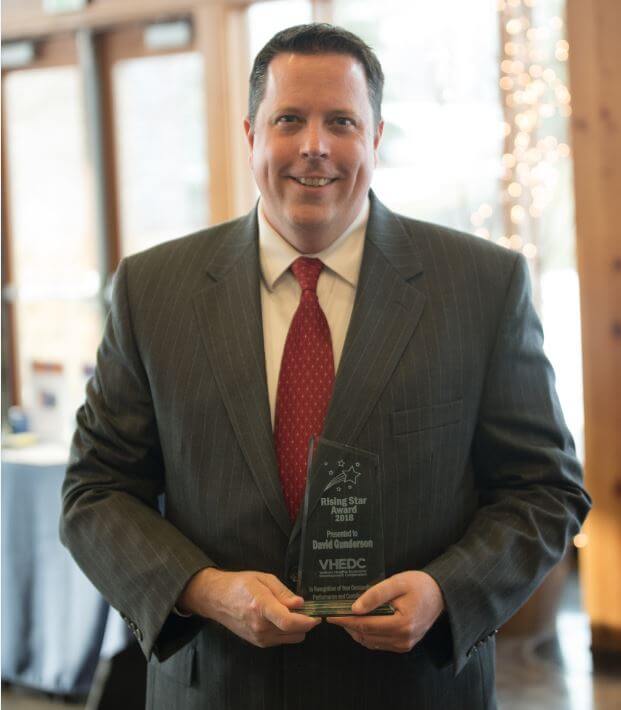 On Wednesday, March 21, the Vadnais Heights Economic Development Corporation (VHEDC) honored local business leaders and presented awards to several outstanding individuals for their excellence in business and their valuable contributions to the community. At the ceremony, the Rising Stars Award was presented to three emerging professionals in the Northeast Metro area. IC System, whose home office resides in Vadnais Heights, Minnesota, is proud to announce that David Gunderson, our Director of Audit, was named a Rising Star.
David Gunderson (pictured center) has been a rising star with IC System for more than 20 years. He started with us as a teenager in our former letter shop. Since then, he has developed into one of IC System's most valuable assets, the Director of Audit. Today, David quarterbacks several initiatives: Strategy, Call Center Administration, Call Quality, Compliance Audit, and Vendor Due Diligence.
David's career path at IC System led him from Consumer Financial Representative to Operations Director, from the supervisor of our Call Quality department to Strategy & Analytics, and then finally to his current role. In each position, David learned an essential piece of IC System's business and thoroughly improved his department, bringing IC System up to date with modern technologies and strategies. "When I start something new, I like to learn the processes through and through, and engage a kind of stewardship," Gunderson said. During this time, David remained self-motivated and obtained a BA in Accounting from Metropolitan State University; he's also working toward becoming a Certified Internal Auditor.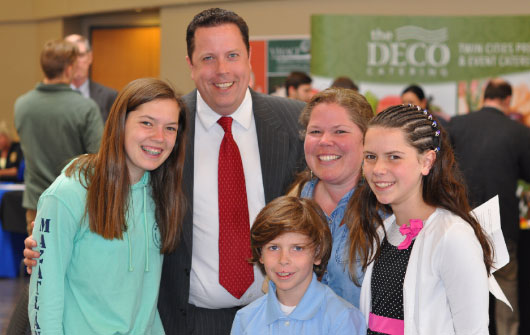 Outside of IC System, David is an active member of his community. In addition to coaching his children's soccer and basketball teams, he has supervised children ages 6 to 10 in the First LEGO League Jr. teams—a program designed to introduce STEM concepts to kids. He also serves on the Board of Overseers at his local church, Northbrook, and devotes time in helping with any needs that arise.
One of David's favorite charities to volunteer through is the Financial Stewardship Mentor Program (FSMP), a program dedicated to working directly with households to resolve financial and spiritual difficulties. The FSMP is a non-profit, public charity under section 501(c)(3) of the Internal Revenue Code. In the FSMP, David serves as a hands-on financial counselor to help families organize their budgets, balance their checkbooks, and help work through the financial difficulties they are currently facing. Through regular follow-up and at-home financial counseling, David helps out and stays connected with these families to ensure they achieve the biblical principles of stewardship, first in the heart and then in the ledger. David even donates his time to do these families' taxes free of charge.
Additionally, David serves as the treasurer for IC System's in-house philanthropic team, called ECHO (Employee Charitable Help Organization). He sits on ECHO's Annual Charity Golf Tournament committee and, in 2017, his efforts on helped raise $8,100 in donations that were distributed to ARMing Heroes and St. Jude Children's Research Hospital.
For his innovations, attention to detail, and fostering of procedural improvements throughout IC System, David achieved our company's highest honor, the President's Club Award, in 2000, 2005, 2008, and 2014—making him the first IC System employee to receive the President's Club Award four times!
"It was an honor to be recognized with a few other community members by the VHEDC," Gunderson said. "I have been blessed by some of my experiences and happily pass that knowledge off to help others at work or in my community. I enjoy reading inspirational words daily and a recent favorite of mine is from Mother Teresa, 'Never worry about numbers. Help one person at a time and always start with the person nearest you.' As a community, I believe we all benefit when people help lift each other up. It was nice to see the VHEDC promote this belief."
David has been an essential member of the IC System and Minnesota community. He ensures IC System remains in alignment with regulatory standards and best practices throughout our highly regimented collection industry, and he offers that same level of care to the greater community. Congratulations David on your well-earned Rising Stars Award!
Brian Eggert is a business development specialist and writer for IC System, one of the largest receivables management companies in the United States. With 18 years in the collection industry, Brian's experience includes operations, client service, proposal writing, blogging, content creation, and web development.