How can billing automation help with dental debt collection?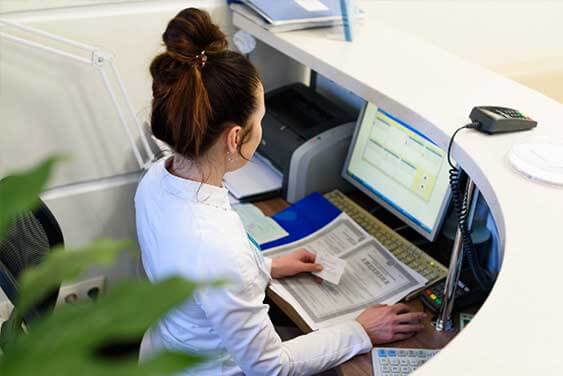 Cash flow is the lifeblood of your dental practice. But the thing that holds back your cash flow (and inflates your accounts receivable days) may have to do with the speed of your processes. If the invoices are only going out to patients in a trickle of paper statements, expect the payments to come in more slowly. The first step in getting paid quickly is speeding up your billing processes, and one effective way to accomplish that is to embrace billing automation. Here are some of the ways billing automation can work for you, and how it can improve your cash flow.
Same-day billing: Some systems are capable of automatically applying the insurance and patient shares of their services, making it possible to provide patients with a bill before they leave the office. To maximize this benefit, always request payment or partial payment before the patient leaves the office.
Clearer, more accurate bills: Billing systems can be programmed to convey invoice expenses in layman's terms, without confusing jargon getting in the way. In the end, patients will receive a clear and accurate bill that aligns with their expectations. This gives them zero reason to set it aside and figure it out later—they will be comfortable enough to pay it.
Recurring bills: Automated billing virtually eliminates the labor to generate and deliver monthly invoices. To further reduce labor and expenses, set up automatic credit card payments with the patient, and let them opt into emailed monthly invoices.
Overdue bills: Automatically generated late notices (along with any interest and late fees added in) save time and effort. To enhance the benefits of this feature, billing staff should access patient information to determine which late accounts are at risk and require urgent action.
Easier payment: On the patient end, billing systems that include a secure and convenient payment widget can give patients the incentive they need to pay you immediately. Traditional payment methods—writing paper checks, searching for stamps, manually entering your practice's name and address onto their bank's bill pay feature—can make it easier to put off the chore until a more convenient time.
Faster collections: Updating your billing system lets your office work seamlessly with insurance payers as well as vendors, which can also have a profound impact on your accounts receivable. When patients fail to respond to your repeated efforts to get them to pay your bills, time is of the essence. After 90 days of non-payment, it's time to turn to a collection partner. Luckily, this, too, can be automated. IC System's practice management plug-in lets you transfer these late accounts right to the collection stage. Our cloud-based practice management app for dental offices makes the hand-off easy and automatic, so you can spend more time focusing on patients and get paid faster.
Need collection help?
Call us at 1-800-279-3511 or REQUEST PRICING!
Brian Eggert is a business development specialist and writer for IC System, one of the largest receivables management companies in the United States. With 18 years in the collection industry, Brian's experience includes operations, client service, proposal writing, blogging, content creation, and web development.