Dentists: Prepare your patients now, avoid collections later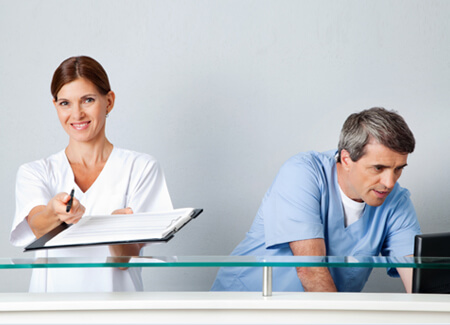 Remaking a billing system to boost same-day payments from patients can make sense for any dental practice. When patients walk out the door without making a payment or paying off their deductible or co-pay, the cost of collecting falls on your practice. On top of that, your patients come with a range of financial habits; some simply won't pay until the second, third, or even fourth notice comes in the mail. Why wait 30, 60, or even 90 days for something as small as a co-pay? Prepare patients for payment now and avoid collections later.
Implement a day-of-service billing system. This will lower the accounts receivables days for your practice, improve forecasting, and increase your cash flow. Here's how you to implement that:
Notify patients of the change
Send letters to patients and give them a heads-up that deductibles, co-pays and other balances will be collected during the appointment. Be sure and update your website copy, and post signs in the waiting room and check-in area. During the appointment-making and check-in processes, staff should convey this information again.
Keep the patient informed
When patients sign the consent form to accept treatment, it should include information that explains your practice's fees along with payment options. Keep this posted in a conspicuous place in your office as well. Give the patient a treatment plan in writing. Because no one likes unexpected expenses, this is also a key time to discuss the financial implications of the costs.
Make expensive treatments more palatable
Patients who are shouldering high costs due to insurance caps may react by wanting to delay or pursue a reduced treatment plan. It's important to discuss the benefits of moving forward with the full treatment. At the same time, help them fit it in with their household budgets. Consider partnering with a local financial institution that offers low- or no-interest financing.
Prepare for non-payers
At the end of the appointment, you can avoid collections situations later by being ready for patients who say they don't have any cash or left their debit card at home. In that case, provide a stamped, pre-addressed envelope along with the invoice, and tell that patient to mail the payment as soon as possible. The invoice should also have information on how to access your widget to make online payments. To give them an incentive to pay up by the end of the business day, offer a one-time discount of 10 or 15 percent if they call your office with a debit or credit card number or pay online.
Work with a collection partner
At this point, your office will be handling very few late- or non-paying patients. Look for a collection partner with a range of services. For example, IC System can draft and mail the final notice before the accounts enter the collections stage. We can also use skip tracing methods to help you locate that rare patient who moved away and can't be reached. Some of our dental clients have worked with us for decades thanks to our dedication to helping you preserve patient relationships.
Need collection help?
Call us at 1-800-279-3511 to REQUEST PRICING!
Brian Eggert is a business development specialist and writer for IC System, one of the largest receivables management companies in the United States. With 18 years in the collection industry, Brian's experience includes operations, client service, proposal writing, blogging, content creation, and web development.