Dental offices: Reduce your accounts receivable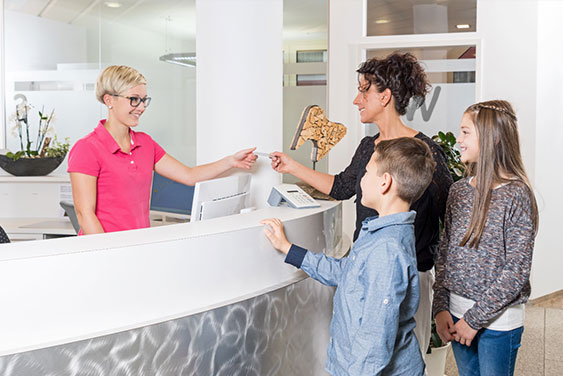 Obviously, no dentist would start drilling without consulting the patient. Yet, a patient caught unaware by a higher-than-expected bill can feel just as betrayed. In 2016, the average dental practice had $47,000 worth of accounts receivable at 90 days or greater, according to a study by Sikka Software. If these are patients that walked out the door of dental offices without knowing the total cost and their payment options, practices are at greater risk of seeing those A/R go into default. In our experience, taking on a surprise-free, easy-to-use billing and payment policy is the best way to reduce those A/R numbers, increase cash flow and, above all, maintain trust with patients.
Offer an estimate: When it's time to go over the treatment plan with the patient, it's also time to give them a cost estimate. This should include what insurance covers and how much the patient would pay out of pocket. Let patients know that flexible options are available to them, such as money-saving treatments and payment plans.
Request payment first: No one likes being asked for money when their mouth is numb and aching. Understandably, it also makes it awkward for staffers. Change up your procedures and get the request for payment out of the way, ideally during check-in or better yet, when the patient makes the appointment. (By the way, collecting the payment or co-pay during the appointment stage will likely reduce no-shows.)
Give discounts: Reward patients who pay in full on the same day of treatment with a discounted rate. This will make them feel like they're getting a better value, and for the practice, it boosts cash flow, lowers A/R days and saves on staff time and materials.
Use your patient's preferred tools: If the dental practice's preferred form of payment is the paper check, these trends may have you rethinking that. In the past 15 years, check payments have fallen by 50 percent, according to the Federal Reserve, while 42 percent of customers now pay bills with their smart devices, according to Nielsen's 2016 Global Money Report. Let patients schedule appointments, access bills and make payments on their timetable and their terms. Offer email billing and texted reminders to patients, along with a secure portal for online payments. (At the same time, keep the paper and phone options open to those who want it.)
Get assistance: Your staff is very busy caring for patients and managing the business part of the practice, and following up with non-payments can take time away from those crucial tasks. A collection partner is like your practice's best friend in that it can take over that task and offer specialized services and resources that can help you resolve these debts even faster.
Need collection help?
Call us at 1-800-279-3511 to REQUEST PRICING!
Brian Eggert is a business development specialist and writer for IC System, one of the largest receivables management companies in the United States. With 18 years in the collection industry, Brian's experience includes operations, client service, proposal writing, blogging, content creation, and web development.