The problem hospitals face when replacing their legacy systems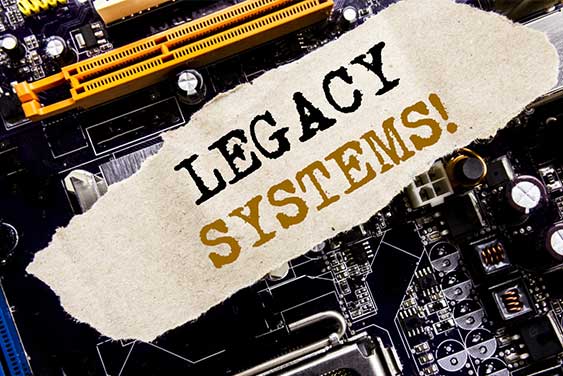 In every hospital, a major system upgrade comes along about every decade or so. What's driving this generation of updates to a comprehensive hospital information system (HIS) are mandates to keep electronic records and other federal regulatory requirements that need to be met. With this major upgrade also comes an exciting new era for patient-focused care. These new systems support automation, integration, and consolidation at a much more sophisticated level than the legacy systems. HIS upgrades are also projected to be efficient and cost effective in the long run for the organization. However, as anyone who has survived or faces an upgrade knows, it's no simple matter of out with the old and in with the new.
Hospitals are obliged to keep these legacy systems going in the background. The chief reason is that patient information needs to be kept and maintained for a decade or more for other regulatory reasons. But here's the rub: Not all this information can make the journey from the legacy system into the HIS, because transferring it is no simple matter. Legacy systems were designed to meet hospital-specific goals and needs of an earlier time. This means reconciling that data is a complex process at best, but it often sends personnel into a rabbit hole of fixing a long list of issues and, as a result, the time and effort extended is just not likely to pay off.
Additionally, many administrators find the transition to HIS also creates problems for accounts receivable. In the transition, it's important to make sure that revenues from open accounts don't slip away. An annual survey of public and nonprofit hospitals in 2017 found the average of accounts receivable was at 47.8 days, with an average payment period of 62.8 days, according to Moody's Investors Service. Clearly, accounts receivable are a major asset for hospitals and the potential for lost revenue is no small matter.
During the transition, it's not only the open accounts that risk getting lost, it's other yet-to-be-identified revenue sources, including unbilled services and insurance rejections and appeals. This presents challenges for hospitals, and the first step is to deploy a process that identifies and reports all the opportunities for accounts receivable that are still contained in the legacy system. The next one is to allocate resources to ensure an ongoing collection effort continues in a way that does not cancel out the efficiencies gained.
Luckily, hospital administrators need not reinvent the wheel to make sure this important source of revenue does not drift away. Read part two of our blog to learn about a smart, cost-effective solution to your HIS conversion nightmare.
Brian Eggert is a business development specialist and writer for IC System, one of the largest receivables management companies in the United States. With 18 years in the collection industry, Brian's experience includes operations, client service, proposal writing, blogging, content creation, and web development.