A Practice Checklist to Help You Prepare for 2018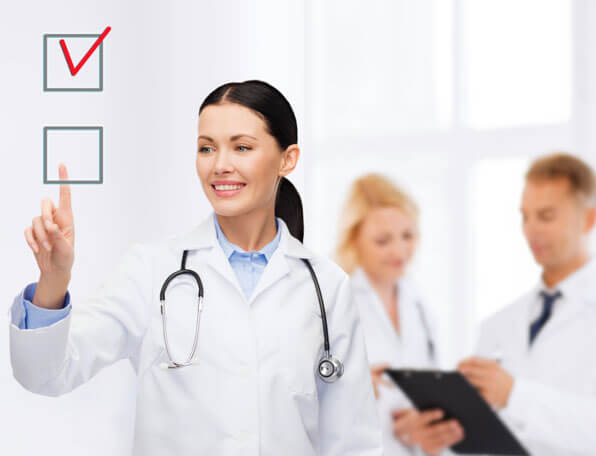 Each day, your practice is there to help patients take stock of their health and create a plan to get healthier. But how often do you step back and give your practice a good checkup? The end of the year is a natural time to look back on the past 12 months and take stock. Don't just stop at budgeting and forecasting. Follow this practice checklist for end-of-year housekeeping so you can have a strong start to 2018!
Payor contracts: Your practice has more than likely received notification from insurance companies on rule changes that are taking effect at the first of the year. It's important for any practice to conduct a thorough review of these changes and disseminate the information to staffers who need to know. Preventing small mistakes and oversights can help prevent delaying revenue to your practice.
Employee reviews: This is a good time for a check-in with staffers. Schedule brief one-on-one conversations to find out how they're doing, what changes they'd like to see at the practice and what their current career goals may be. This opens the door to consider their skill sets, their potential, and what new roles they may play in your practice.
Review your online tools: In the day-to-day hustle, it's easy for any small-business owner to neglect their online presence. Visit your own website and review each page to ensure all information is still correct and every link still functions. Be sure and examine social media pages, along with any other public-facing presence you can think of. Even if these things could use an update, correcting outdated information is always a step in the right direction.
Review contracts: No doubt, you work with many vendors, and at some point in 2018, your practice will be renewing and reviewing your options. This year, come to the negotiating table better prepared. Make a spreadsheet of when contracts are up, and build reminders to review these at least 30 days before they're due. If ending one of these partnerships is under consideration, however, be sure to budget additional time to find a replacement.
Cash-flow check-up: If cash flow is tight, it's time for a closer look at your accounts receivable inventory. Run reports and sort them into three categories: of 0-30 days, 90-120 days, and more than 120 days. What percentage of your account receivables are in the 0-30 day category? If it's below 80 percent, that could signal cash flow and business management problems. Next year, reduce your account receivables, boost cash flow, and work with a collection partner to help you recover past-due accounts.
Of course, the holiday season is busy enough. So if you can't get to this practice checklist before 2018, be sure to set aside some time to review these areas on an annual basis.
Need collection help?
Call us at 1-800-279-3511 to REQUEST PRICING!
Brian Eggert is a business development specialist and writer for IC System, one of the largest receivables management companies in the United States. With 18 years in the collection industry, Brian's experience includes operations, client service, proposal writing, blogging, content creation, and web development.