MN Gopher Chapter of AAHAM Receives Chapter Excellence Award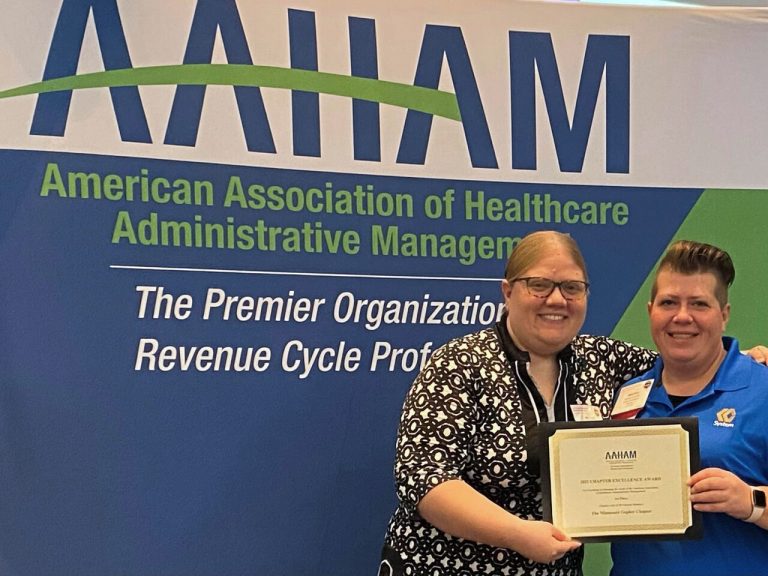 The MN Gopher Chapter of AAHAM (American Association of Healthcare Administrative Management) has been named 1st Place for the 2022 Chapter Excellence Award. This award was presented to the Minnesota Chapter's President, Heather Rickgarn. Kristina Gursky, Director of Healthcare Client Success at IC System, is currently the First Vice President of the MN Gopher Chapter and shares this award with chapter president Heather Rickgarn and the chapter's entire leadership team of officers and board members.
AAHAM is the only national organization dedicated to the revenue cycle of both management and frontline staff. In addition, AAHAM's goals are to provide the industry with timely education and peer networking. AAHAM has dozens of individual chapters at the state and regional levels.
To be recognized with first place in Chapter Excellence by AAHAM's national team requires dedication by the chapter to ensure chapter-level leadership is communicating with members regularly and providing quality education.
"Involvement with the MN Gopher Chapter of AAHAM is so important," said Kristina. "One, it provides me with the ongoing education I need to ensure we are aware of what our clients are facing in the industry and its impact on patient billing. Two, it allows me to give back to the healthcare industry uniquely by ensuring we have local resources readily available for our revenue cycle partners in Minnesota. Three, the networking opportunities are priceless. To be able to share ideas and resources with industry peers and make lifelong friends along the way is something AAHAM does incredibly well at both the chapter and the national levels."
Kristina has been in the revenue cycle industry since 1999. She joined IC System in 2005 as a National Healthcare Account Manager, after serving as a Healthcare Collections Specialist for Wright Medical Center in Clarion, IA, for over four years. Kristina was appointed to the AAHAM National Patient Financial Advocate Task Force in 2020. She also holds her AAHAM Certified Revenue Cycle Professional designation, her HFMA Certified Revenue Cycle Specialist designation, and a degree in Healthcare Administration.
Brian Eggert is a business development specialist and writer for IC System, one of the largest receivables management companies in the United States. With 18 years in the collection industry, Brian's experience includes operations, client service, proposal writing, blogging, content creation, and web development.