Hospital Collections Must be More Patient-Friendly Than Ever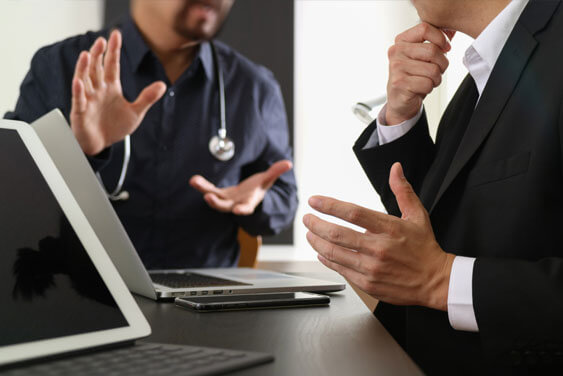 The patient experience is priority number one in healthcare today. Every interaction, whether it's with the hospital staff or in the form of written communication, contributes to how patients evaluate the quality of the care they received. In cases where a patient must be sent for hospital collections on a past-due account, the importance of the patient experience doesn't just end. Collection practices should be considered part of the patient experience that can feed into positive, patient-centered care.
Understand the Patient's Perspective
Understanding the patient's perspective is key to creating a positive patient experience. Consider that patients often need hospital care for unexpected or emergency situations, which can be stressful, if not shattering. And consider the financial burden of those situations. Today's high-deductible health plans that combine the pressure of an unexpected medical situation with a bill for a great deal of money. It's a potentially tense experience that confronts many Americans. A recent CNBC report suggests that 137.1 million Americans have dealt with financial hardship in 2019 due to high healthcare costs.
In a recent interview with the HFMA, Intermountain Healthcare Executive Vice President and CFO Bert Zimmerli told a story about a patient advocate who suggested adding a message to the outside of envelopes containing a healthcare bill: "If you need help paying your bills, please call the following number." The practice, which Intermountain put into effect, followed the organization's ambition to help patients "focus on getting well rather than worrying about how they will pay for care."
This story underscores how empathizing with the patient experience is priority number one in healthcare today. Failing to understand or even antagonizing the situation with aggressive collection practices will not help matters; they may even ruin the potential of a future relationship between the organization and the patient.
With that in mind, every healthcare provider should review their collection practices from the first encounter with the patient to ensuring your collection partner understands and adheres to your views about creating a positive patient experience.
Alignment between the hospital and the collection agency
Your hospital probably has a series of best practices in place that make sure the patient experience, from care to billing, leads to helpful interactions. But what happens when you send your past-due accounts to a collection agency? Do they have your hospital and your patients' best interests at heart?
"You definitely can work with collection agencies around principles," Zimmerli told the HFMA. "If they won't agree, they probably aren't the right collection agency for you to use."
Indeed, to ensure that the patient is treated with consideration throughout the recovery process, from the hospital to the collection agency, both parties need to set expectations for the tone and manner of collection activities.
Before signing a contract with a collection partner, hospitals should meet with the collection agency, and both parties should agree to the measures and metrics that will be used to gauge not only financial success but positive patient experiences.
How to ensure alignment
Hospitals have different ways of holding collection agencies accountable and ensuring they act in a helpful way on behalf of the organization.
Of course, it's important that the collection agency supports and follows the hospital's policies regarding financial assistance. This is especially true of the IRS's policies around not-for-profit hospitals and the "reasonable efforts" that must occur when supplying a financial assistance notification and before taking extraordinary collection actions (ECAs). If this all sounds confusing to you, make sure you understand the IRS's Section 501(r)(6).
It's also key to make sure your collection agency properly represents your hospital in written and verbal communications during hospital collections. Ask to see copies of the collection agency's collection letters to confirm that you agree with how they're worded. Ask for a regular monthly or quarterly review of recorded collection calls, so you can hear for yourself what the patient hears when they receive a call from your new partner. Also, make sure you have access to an online interface that gives you full visibility into the collection agency's efforts on your behalf.
Having ongoing open communication with your agency is also essential. They should be providing you with consistent reports on significant KPIs, regularly notifying you of recalled and closed accounts, and have a customer service representative or account manager ready to answer your questions.
Happy Patients, Better Collections
It should come as no surprise that when patients have a positive interaction with a collection agency for hospital collections, they're more likely to resolve their account. When collection agencies treat patients respectfully and ethically, using negotiation techniques with the patient experience in mind, the result produces a higher rate of return.
IC System records every collection call and reviews several calls per month to audit our representatives. After researching thousands of collection call scores on our 1 to 10 grading scale (10 being the best), IC System found that patients are almost twice as likely to pay on calls with a score of 10 than those with a score of 7. This suggests the better the patient experience, the higher the likelihood of payment.
For a hospital to ensure the best care for their patients while also maximizing their recoveries, positive patient experiences must extend beyond the hospital. Collection agencies should be aligned with hospitals to ensure the ethical, friendly treatment of patients carries through every interaction. This will mean the patient is more likely to pay and return to the original hospital if additional care is needed, but more importantly, it will ease the patient's healing process by reducing tension and stress.
To learn more about why the patient experience makes all the difference, download IC System's eBook: Why Nice People Collect Bad Debt.

Brian Eggert is a business development specialist and writer for IC System, one of the largest receivables management companies in the United States. With 18 years in the collection industry, Brian's experience includes operations, client service, proposal writing, blogging, content creation, and web development.