Local Distillery Inspires with Their Coronavirus Response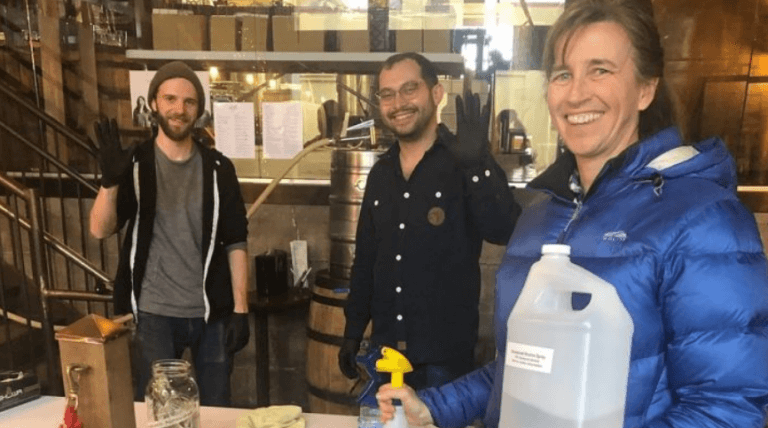 As everyone continues to process the headlines and changing reality concerning the COVID-19 situation, it's always nice when you find someone whose coronavirus response gives you inspiration and hope.
That's certainly the case with Vikre Distillery, a Minnesota spirits maker that normally creates a variety of gins, vodkas, and whiskeys. Faced with the pandemic and the growing demand for hand sanitizers, they have adapted and have started making hand sanitizer spray, which they are making available for free to the public.
The distillery made the announcement on their Facebook page: "We know it's hard to get your hands on sanitizer (pun intended, maybe?) right now. Because we produce the main ingredients in sanitizer in the distilling process, we are making our own sanitizing spray for our own use and we wanted to make some available to the public for those who need it."
After recently eliciting help from other local businesses, Glacial Grain Spirits and Olddominion Freight Line, who processed raw materials for the sanitizer, Vikre Distillery has provided a moving example for their community in Duluth, Minnesota, and the surrounding areas. Other craft breweries and small-batch distilleries around the U.S., as well as majors such as Absolut and Jameson, have had the same idea.
Whether you're a small company or large, it's important to remember that during times like these, people and communities come first. Vikre Distillery, located north of IC System's St Paul, Minnesota office, inspired us by their example.
IC System has resolved to keep operating at full capacity to help our clients continue to earn the revenue they need to keep their businesses operating, and we also continue to approach every consumer interaction with empathy and understanding for this fluid situation. At the same time, we have ensured safe conditions under which our employees can continue to work, whether it's working from home or in the regularly disinfected environment of the office.
Whether it's our employees, our clients, or their consumers, people remain at the forefront of IC System's COVID-19 response.
Every business and individual must find their own way to contribute until things return to normal after the coronavirus pandemic. It's time to ask: What can I do to help?
Learn about IC System's commitment to consumer satisfaction.

Brian Eggert is a business development specialist and writer for IC System, one of the largest receivables management companies in the United States. With 18 years in the collection industry, Brian's experience includes operations, client service, proposal writing, blogging, content creation, and web development.