Increase Collections with These 6 Tips for Speaking with Past-Due Consumers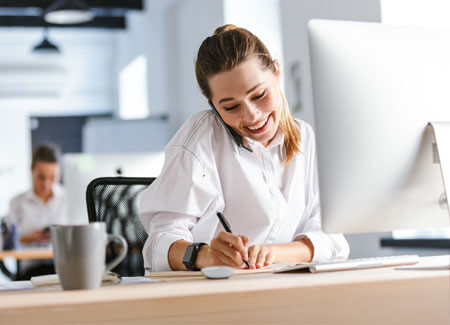 Talking to a consumer about a past-due account is a tricky thing. If you don't stress the importance of payment enough, you may never get paid. If you come on too strong, you could aggravate your business' relationship with the consumer. Follow these six steps for recovering delinquent bills, and you'll find your internal collection process is not only more natural and recovers more, but you can do it in such a way that preserves the consumer relationship that you worked so hard to build.
Don't Procrastinate
Schedule a regular time each week to make phone calls or mail your office's past-due notices. If it's not built into your schedule, you may forget, and timely follow-up is essential when dealing with your accounts receivable.
Prioritize Your Work Effort
Let's say you have ten past-due consumers to call, with balances ranging from $25 to $1,000. Which ones should you call? If you must pick, start with the higher balances and newest accounts, which tend to pay more frequently.
Protect Privacy
It seems like a no-brainer, but verify who you're talking to before you begin to disclose account information. Your consumers' privacy is very important to them, especially in sensitive situations involving a past-due account.
Speak with a Smile
It probably sounds like a cliché, but there's some truth in it. When you're talking to a consumer on the phone, they can tell whether or not you're smiling. So smile, and bring a little positivity to a potentially awkward situation.
Get Commitment
Before you end the call or discussion with a past-due consumer, ensure that you know when they're going to pay. Clarify the details more than once. Paraphrase what you've agreed upon, and then reiterate the arrangement at the end of the call.
To further prepare yourself for the sometimes rough terrain of speaking to past-due consumer, download IC System eBook: A handy trail guide to faster payments and increasing cash flow.

Brian Eggert is a business development specialist and writer for IC System, one of the largest receivables management companies in the United States. With 18 years in the collection industry, Brian's experience includes operations, client service, proposal writing, blogging, content creation, and web development.