IC System's Socially Distanced Drive-Thru Event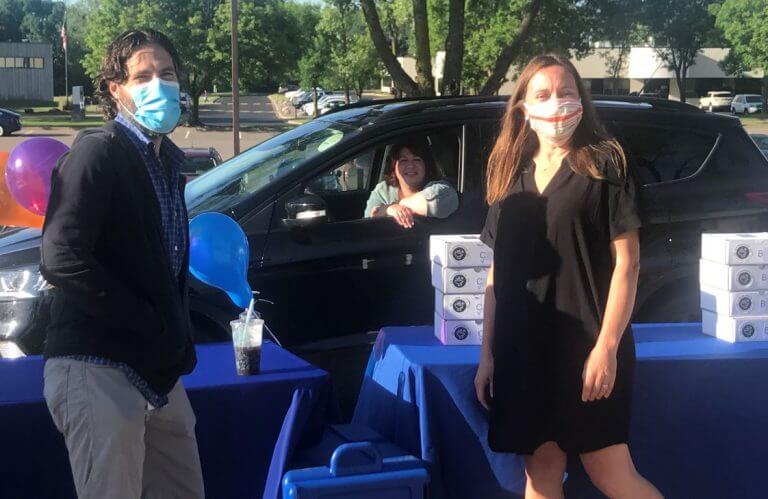 IC System acted fast when the COVID-19 pandemic broke in the United States earlier this year. We helped our more than 500 employees transition to at-home working environments. But to be honest, we have missed our employees over the past few months. That's why, on Thursday, June 25, IC System organized a Drive-Thru meal event for our employees at the home office in St. Paul, Minnesota, and branch office in La Crosse, Wisconsin. Over 400 employees and their family members arrived in their vehicles for either breakfast in St. Paul or lunch in La Crosse.
In St. Paul, Stonehouse Custom Catering supplied delicious breakfast sandwiches and breakfast burritos, along with juice and fruit, in a convenient breakfast box. Everyone could also help themselves to individually wrapped donuts provided by Grandma's Bakery in White Bear Lake. Employees' children who came along received a special "activity bag" filled with bubbles, Play-Doh, squishy balls, crayons, snacks, and more.
In La Crosse, employees enjoyed a lunch provided by Rooster Andy's, a local favorite that served half-chicken lunches with potato salad and beans on the side.
"This was a great way to support local businesses during these challenging times," said President and CEO John Erickson, Jr., who served the meals at St. Paul alongside other members of IC System's leadership team. "More importantly, we loved seeing everyone in person for the first time in a long time."
All unused meals were donated to local food shelves to distribute throughout the community. The White Bear Lake Food Shelf and La Crosse Salvation Army gave over 175 pounds of meals to those in need.
One of the event organizers, Shannon VanHouten said, "After being cooped up at home for so long, it was great that our company could find a way for everyone to see each other in a safe, socially distanced way."
Learn more about IC System in the community.

Brian Eggert is a business development specialist and writer for IC System, one of the largest receivables management companies in the United States. With 18 years in the collection industry, Brian's experience includes operations, client service, proposal writing, blogging, content creation, and web development.