IC System's Earth Day and Charitable Giving Event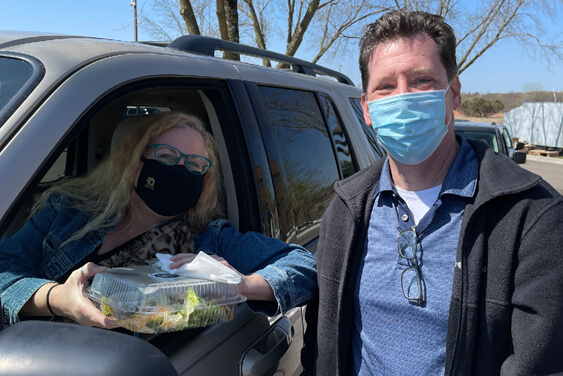 Earth Day has been celebrated for over 50 years as part of the contemporary environmental protection movement. Today, billions of people the world over celebrate Earth Day in their own way. IC System celebrated on April 22, 2021, with a drive-thru lunch and charitable giving event.
Appropriately, the Sun was shining, the grass was green, and the trees were blooming on this beautiful spring afternoon. Hundreds of employees at our home office in Vadnais Heights, Minnesota, and branch office in Onalaska, Wisconsin, drove up to their respective offices to receive a free lunch and gift, and then donate to their community.
Each employee received lunch catered by Stonehouse Catering in Vadnais Heights and Big Bore Barbeque in Onalaska, a desk plant, and a reusable bento box made of compressed wheat and bamboo—all inside a reusable tote. Each of these items was branded with the company's motto during the COVID-19 pandemic, "Apart, Working Together." This motto reflects how most of our tight-knit employees have been working remotely since the pandemic hit over a year ago, yet we remain focused on the same purpose of Making Collections Better.
This socially distanced drive-thru event is the latest in a regular series of IC System events during the pandemic. They're designed to bring us together in a safe way, while also allowing employees to give back to their community.
In Vadnais Heights, ECHO (Employee Charitable Help Organization), IC System's in-house volunteer group, collected all sizes of diapers and wipes for the White Bear Lake Area Food Shelf. Our Onalaska office collected new and gently used shoes for Shoes with Heart for the La Crosse Jaycees, which has a goal to collect 2,500 pairs of shoes for the community.
"It was great seeing everyone come together for this Earth Day drive-thru event," said Stacy Biehn, one of the event's coordinators. "Mother Nature was really showing off with the sunny weather, which made the day even more special. We received a lot of donations, and everyone loved their Earth-friendly, sustainable swag!"
Check out some of the event's highlights in the video below!
Brian Eggert is a business development specialist and writer for IC System, one of the largest receivables management companies in the United States. With 18 years in the collection industry, Brian's experience includes operations, client service, proposal writing, blogging, content creation, and web development.