IC System's Charity Golf Tournament Sets a New Record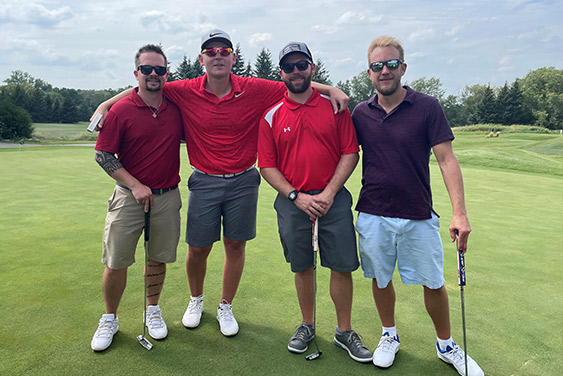 IC System is about more than collecting past-due accounts; it's also about collecting donations for causes that matter. For example, this summer marks 23 years of IC System's Annual Charity Golf Tournament. Every year, employees, vendors, and friends of IC System join for a day of friendly competition and course games to create awareness and raise money for local and national charities.
Golfers played 18 holes at Tanner's Brook in Forest Lake, Minnesota, on Friday, August 20. Three golf committee members and nine volunteers organized a fantastic golfing day to raise funds for three charities: Can Do Canines, a Twin Cities non-profit that supplies specially trained dogs to people with disabilities; A Soldier's Child Foundation, which supports children of fallen military personnel; and The American Cancer Society, which is committed to fighting cancer through research, education, advocacy, and service.
A Soldier's Child (ASC) was in attendance to celebrate the birthday of one of the Minnesota children who lost her father to military service. She and her family attended a birthday dinner and party after the tournament. There were presents from ASC and IC System, decorations, and cake. In addition, a golden-voiced IC System salesperson, Tom Mayfield, sang "Happy Birthday" not only to the honored ASC birthday guest but to the other IC System employees in attendance with birthdays.
Every year, IC System tries to outperform the previous tournament's donations. The 2021 total of over $28,000 surpassed the last year's total by over $5,000, making it the most successful charity golf tournament in IC System's history.
Rocky Bzdok, one of the event's organizers, observed, "This was such an exciting year having the ASC family joining us at the tournament for a birthday party. When I see the numbers keep rising year after year, it gets me excited that we will be able to provide that much more back to the community. The charities that we support are the winners of the tournament."

Brian Eggert is a business development specialist and writer for IC System, one of the largest receivables management companies in the United States. With 18 years in the collection industry, Brian's experience includes operations, client service, proposal writing, blogging, content creation, and web development.