IC System Takes the Polar Plunge in Minnesota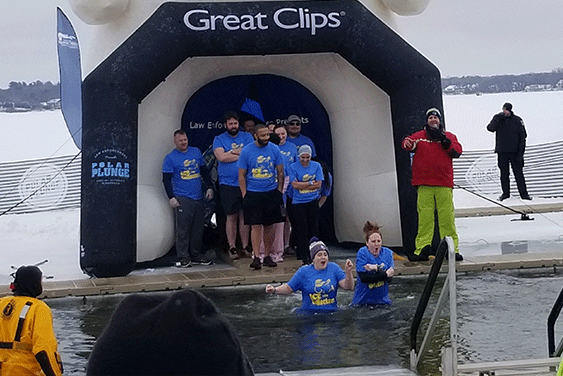 IC System was on the ice for 2020's annual Polar Plunge in White Bear Lake, Minnesota. The event, now in its 18th year at this location, supports the Special Olympics Minnesota. Upwards of 13 volunteers from IC System lept into Ramsey Beach on White Bear Lake on Saturday, January 25. Our team helped raise over $4,300 and volunteered more than 74 hours to the event between fundraising and plunging.
IC System's home office in St. Paul recently started the tradition of participating in the Polar Plunge in White Bear Lake. In the past, employees from our St. Paul office would venture to La Crosse, where our branch office is located. Today, both IC System's offices participate in their respective Polar Plunges, raising thousands for both Special Olympics Minnesota and Wisconsin.
"This was my first year participating in the MN Polar Plunge," said volunteer Nicole Mueller. "I have taken the Plunge over the last four years in LaCrosse. This year's event was great, and to my surprise, it wasn't as cold as I anticipated! We had a great team, and I am grateful we were able to raise money for these athletes."
Despite temperates ranging between 27° and 33°, the consensus seems to be that jumping into a frozen lake isn't all that bad. "The water wasn't as cold as I thought," added another volunteer, DeShun Givance Jr. "Life is all about being cold for a good cause, and the Polar Plunge is an AMAZING experience!"
With dozens of volunteers throughout the community, the White Bear Lake Polar Plunge set a goal to raise $175,000 for Special Olympics Minnesota. This year's Plunge exceeded its goal, raising an incredible $194,820. The White Bear Lake Plunge has helped raise an incredible $2,923,000 over its 18-year history supporting this initiative.
Thank you to the White Bear Lake Polar Plunge event for organizing all of these (brave) volunteers for a fantastic cause!
Learn more about IC System's community fundraising by downloading our In the Community PDF. 
Brian Eggert is a business development specialist and writer for IC System, one of the largest receivables management companies in the United States. With 18 years in the collection industry, Brian's experience includes operations, client service, proposal writing, blogging, content creation, and web development.