IC System Takes the Polar Plunge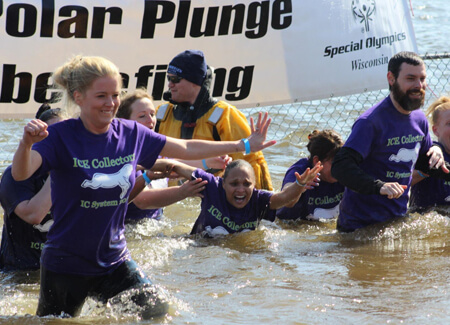 It seems like madness. People run into a freezing cold river only to sprint back to shore and seek reprieve in the toasty comfort of a hot tub. But that's just how the enthusiastic participants of the Polar Plunge roll. On Saturday, March 4, this year's Polar Plunge event found volunteers leaping into the icy waters at Pettibone Beach in La Crosse, WI for a great cause.
IC System's team, dubbed the ICE Collectors, plunged for their seventh year. In total, a whopping 33 people from IC System participated, marking one of the largest teams from IC System so far: 14 from the St. Paul office, and 19 from the La Crosse Office. In the months leading up to the plunge, members of the team gathered donations from sponsors, and all proceeds help support the Special Olympics of Wisconsin.
The effort was organized by IC System's in-house Employee Charitable Help Organization, called ECHO. Nicole Mueller, a member of ECHO, shared her feelings on the event: "The Polar Plunge is always a fun event to participate in, and you truly are 'Freezin' for a Reason.' This was my third year attending and plunging for the Special Olympics Wisconsin. I raise funds and take the plunge because I feel that everyone deserves a chance to be an athlete. Coming from an athletic family (me not so much), I have seen firsthand the joy it can bring to work hard for something you have a passion for. It warms my heart to think of all the wonderful things we are doing to help support these athletes on their journey to the Olympic Games."
Other members of IC System's te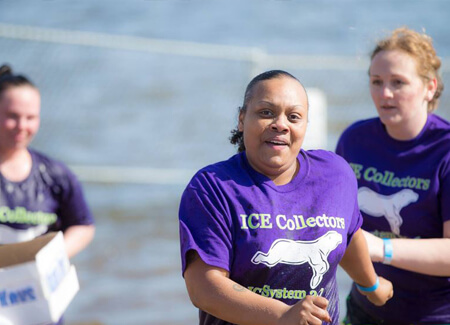 am included: Beth Moratto, Blake Cruser, Brody Kabat, Chanel Bell, Crissy Lobermeier, Cristia Costigan, Crystal Rolfzen, Danielle Smith, Dawn Plate, Daynesha Younger, Ezra Kazee, Hannah Dickinson, Jacob Murphy, Jeanette Henderson, Jennifer Van De Walker, Joe Erickson, Justin Burr, Karen Jonas, Kathy Hornstien, Kim Dickinson, Kyle Leeks, Miranda McCarthy, Paul Donnell, Robin Borneman, Rocky Bzdok, Siobhann Steindorf, Sonya Young, Tim Buckland, Tracy Smith, and Zeke Thompson.
The IC System team ranked third out of all teams participating in the event, raising $7,084.06 for the Special Olympics of Wisconsin. The top fundraiser in the La Crosse office was Ezra Kazee, with $675 in donations; the top fundraiser in the St. Paul office was Rocky Bzdok, with $1,502 in donations.
Of course, it's not just an IC System event; other local businesses and members of the community participated as well. All of the teams combined helped the La Crosse plunge raise and incredible $142,000. As it takes $552 to support an athlete for a year, this event alone will allow 257 athletes the opportunity to participate in the Special Olympics!
First-time plunger Kyle Leeks summed up the event best. "Although the Mississippi was freezing, it was fun to Polar Plunge with the IC System family for a great cause. Can't wait for next year!"
Brian Eggert is a business development specialist and writer for IC System, one of the largest receivables management companies in the United States. With 18 years in the collection industry, Brian's experience includes operations, client service, proposal writing, blogging, content creation, and web development.