Announcing Two New HFMA Chapter Presidents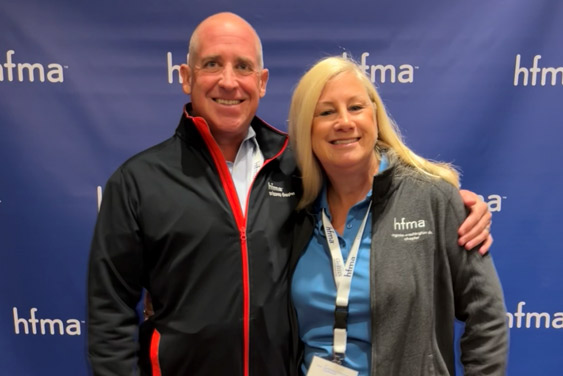 IC System is pleased to announce two new HFMA (Healthcare Financial Management Association) chapter Presidents. Mary Prendergast has been named President of the Virginia-Washington DC HFMA, and Bart Shea has been named the President of the Arizona HFMA. Both Mary and Bart also serve as Vice Presidents of Business Development at IC System, and both began their one-year appointments as HFMA chapter Presidents on June 1, 2022.
HFMA is an organization with over 40,000 members and 68 chapters nationwide. Each chapter supplies necessary communications to members about tools and solutions, education, industry analyses, and strategic guidance.
HFMA members include representatives from hospitals, integrated delivery systems, managed care organizations, medical practice groups, long-term and ambulatory care facilities, public accounting and consulting firms, insurance companies, government agencies, and other organizations.
"I'm honored to be chosen as my chapter's President. HFMA is essential for the healthcare industry because it provides education and legislative information to its members," said Mary. "I want to provide a place where members can get good continuing education, become certified and belong and participate with a professional group that will help them grow now and in the future. I want to help early careerists and provide a great place where people can join in and become better mentors and leaders."
Mary continued, "This Presidency role came with lots of hard work and dedication. I believe taking on this role will help me better work with all types of people and grow in my education of healthcare and healthcare finance."
"I've been a member of HFMA for over 15 years and have developed many lifelong friends," said Bart. "I've always been very passionate about connecting our healthcare leaders with the tools they need to improve their department through education and certification."
Bart added, "I've always believed that you should never stop learning and never quit on the end goal. HFMA has been key in supporting my goal to know the revenue cycle and healthcare finance. In my sales role at IC System, HFMA is a vehicle to help bring a healthy recovery to anyone who needs advice or a necessary change to increase recovery."
Mary and Bart are the latest IC System subject matter experts who work closely with healthcare associations such as the HFMA and the American Association of Healthcare Administrative Management (AAHAM). Additionally, IC System also ensures healthcare managers have been certified in the HFMA's Certified Revenue Cycle Representative (CRCR) Certification Program and AAHAM's Certified Revenue Cycle Specialist (CRCS).
Congratulations to Mary and Bart on their respective roles as HFMA chapter Presidents.
Brian Eggert is a business development specialist and writer for IC System, one of the largest receivables management companies in the United States. With 18 years in the collection industry, Brian's experience includes operations, client service, proposal writing, blogging, content creation, and web development.