IC System Jumps into Freezing Lake for Charity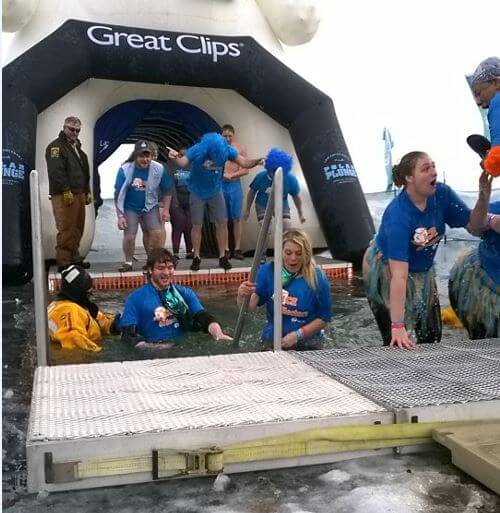 Upon the publication of this blog, temperatures around IC System's home office in St. Paul, Minnesota, have averaged anywhere from 0° to 10°— often dropping below zero when you factor wind chill. Perhaps that's why IC System has a particular admiration for our employees who participated in the 2018 Polar Plunge. Getting bundled up just to walk from the office to the car is a chilly proposition, much less jumping into a frozen lake in swim trunks.
On Saturday, January 27, at White Bear Lake's Ramsey Beach, 12 of IC System's most warm-blooded employees leaped into the icy cold waters in support of a great cause, the Special Olympics Minnesota. 2018 was IC System's first year participating in the Minnesota plunge. In previous years, our La Crosse, Wisconsin office has plunged into the Mississippi River in support of the Wisconsin Special Olympics. (This year, our La Crosse staffers will be plunging on March 3, hopefully to warmer temperatures.)
The event gathered volunteers and supporters from throughout the Twin Cities area, and each plunger raised funds for this vital cause. IC System was proud to be a part of the effort and help out in our community. Our team, the ICE Collectors, raised an astounding $2,091.18.
The members of our team included Allison Bellrichard, Rocky Bzdok, Crista Costigan, Jason Dorr, Taylor Hansen, Amanda Klande, T.J. Lee, Katrina Mcfarlen, Casey Pabst, Elonda Shepherd, Tony Sowden, and Melissa Thompson. Volunteers could either raise funds as a "Polar Plunger" by jumping into the lake, or could retain a "Too Chicken to Plunge" status by raising funds but not plunging.
Chanel Bell, IC System's team captain, said, "We came, we plunged, and we froze. I was originally going to do 'Too Chicken to Plunge,' but then I decided to challenge my team. I told a few people that if I was able to raise $75, I would actually jump into the freezing lake. Well, that was the quickest I have ever seen IC System employees raise funds. Yes, I jumped."
Thank you, Chanel, for your bravery. And thank you to everyone for supporting the ICE Collectors and Special Olympics Minnesota.
Brian Eggert is a business development specialist and writer for IC System, one of the largest receivables management companies in the United States. With 18 years in the collection industry, Brian's experience includes operations, client service, proposal writing, blogging, content creation, and web development.