IC System Comes Together for Local Food Shelf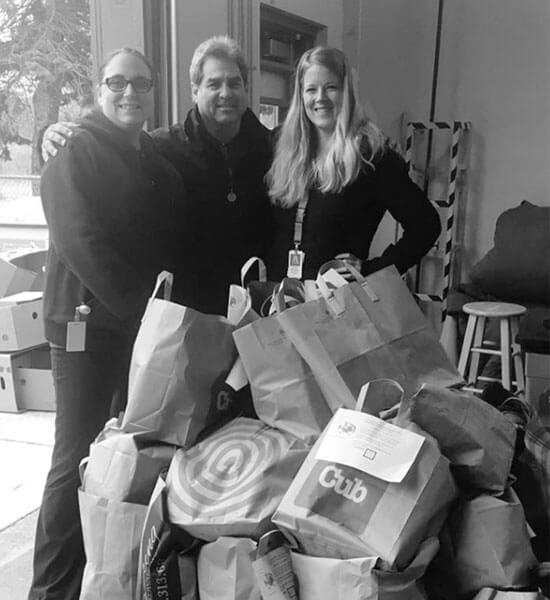 When the leaves start to change and the autumn season rolls around, that means it's time for the Fall Fundraiser at IC System. Our company's charitable group ECHO (Employee Charitable Help Organization) leads several days of games and events to gather employee donations for local charities and families in need. No other game or activity garners more participation than our annual "Turkey Dash" contest at the home office in St. Paul, MN, which accepts monetary donations and non-perishable food items for the local White Bear Area Emergency Food Shelf.
This year, IC System's staff contributed a record amount: employees gave more than 350 lbs. of food and contributed over $3,500 in monetary donations. According to Andréa Kish-Bailey, Executive Director of the WB Food Shelf, each dollar collected equates to 8 lbs. of food for the community. That means IC System helped raise more than 28,350 lbs. of food!  
Additionally, IC System contributed a $1,000 check that was used to purchase 400 kids pack meal kits. Each meal kit contains several non-perishable food items for local children, including two breakfast items, two entrées, and two snacks to help keep children strong and growing over those weekend days.
You can help donate as well, either to your local food shelf or on the WB Food Shelf's donation page. Because they work with local vendors and suppliers to acquire foods at discounted rates, the WB Food Shelf prefers monetary contributions. Volunteers are always needed as well. For food donations, the Food Shelf asks for items that are more difficult to arrange with wholesalers: gluten-free items, cooking oil, spices, flour, sugar, juices—all those items that make food taste good (click here for a list of their Most-Wanted Food Items).
The WB Food Shelf also holds community events like the Give a Gobble Turkey Drive, which provides Thanksgiving meals to more than 425 families. But this is just one of the many ongoing events and campaigns held by the Food Shelf to provide food and support to our neighbors. "The part I love most about my job is connecting with people," said Kish-Bailey, who has been with the Food Shelf for two-and-a-half years. "Life is a journey. Sometimes you can give, sometimes you need to receive. And you can do both at the Food Shelf."
IC System is proud to contribute to our community and volunteer to assist the White Bear Area Food Shelf in their efforts. Thank you to Kish-Bailey for helping to organize donations, and to all IC System employees who made donations!
Brian Eggert is a business development specialist and writer for IC System, one of the largest receivables management companies in the United States. With 18 years in the collection industry, Brian's experience includes operations, client service, proposal writing, blogging, content creation, and web development.