IC System President Recognized by Vistage Minnesota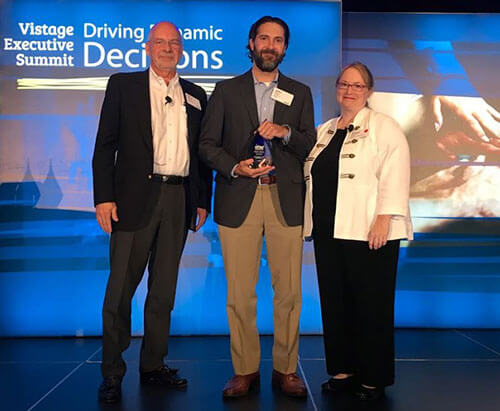 The 2017 Vistage Minnesota IMPACT Award committee recognized IC System's President and CEO, John Erickson Jr., at the Vistage MN Executive Summit on September 26, 2017. Among many nominees, Erickson was identified for the trust he nurtures in his business, as well as his leadership of IC System's community outreach.
The Vistage MN Impact Award was created to distinguish and celebrate members of the Minnesota community who value trust, caring, challenge, and growth in their business. The award is just one way for the organization to acknowledge the exceptional leadership skills and impact business leaders have in their organization and beyond.
Vistage MN is part of Vistage Worldwide, which has over 21,000 members throughout 20 countries. Vistage is a leading business advisory and executive coaching organization for CEOs, small business owners, and executives across multiple industries—including manufacturing, professional services, technology, and of course, the collection industry, among many others. Vistage Minnesota has devoted itself to bringing community leaders together and increasing their effectiveness, performance, and enhancing the lives of executives and their organizations.
Vistage Chair Tom Gunderson said, "We received a great response from our call for nominations for our first ever local IMPACT award. It is impressive what our finalists—indeed all of the members—are doing to lead their companies successfully, give back to their communities and take care of their teams." The first ever Vistage Minnesota IMPACT Award was given to Nick Hackworthy, of Creative Homes. John Erickson was joined by runner-up Sam Claassen from Short Elliot Hendrickson, Inc.
Erickson is a member of the third generation in IC System's family ownership. A privately owned company founded in 1938, IC System provides accounts receivable management services for thousands of clients within many industries, including healthcare, financial services, retail, education, utility, government, and communications. Headquartered in St. Paul, MN, IC System has a branch office in La Crosse, Wisconsin.
"I was grateful and privileged just for the nomination," said Erickson. "The Vistage group is doing so much for Minnesota businesses, and through them the local community. To be recognized is a great honor."
Need collection help?
Call us at 1-800-279-3511 to REQUEST PRICING!
Brian Eggert is a business development specialist and writer for IC System, one of the largest receivables management companies in the United States. With 18 years in the collection industry, Brian's experience includes operations, client service, proposal writing, blogging, content creation, and web development.