IC System Gives Thanks to Employees in 2020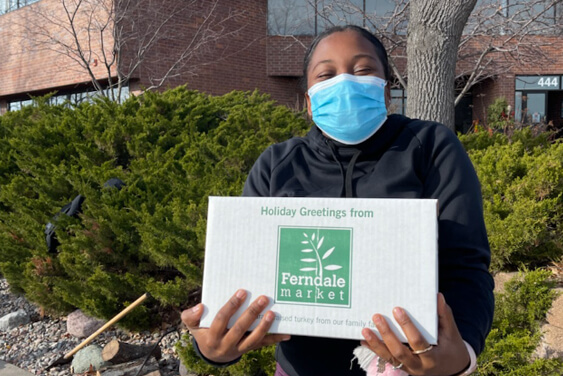 Putting it mildly, 2020 has been a challenging year for many companies in the United States and beyond. IC System has been able to weather the storm because its people have been flexible, innovative, and hard-working throughout the pandemic. In short, the year's challenges have brought out the best in IC System and led to a surprisingly good year. This holiday season, IC System showed its gratitude to its employees on November 19 and 20 by giving away turkeys to employees, just in time for Thanksgiving.
Employees at IC System's home office in St. Paul, MN, and branch office in Onalaska, WI, picked up their turkeys in a drive-thru style—one of many drive-thru events the company has conducted throughout the pandemic. During this time, the company and its motto, "Apart, Working Together," have helped foster a strong culture and sense of connectedness, despite most of its more than 500 employees working from home.
Ferndale Market out of Cannon Falls, MN, supplied the free-range turkeys, which averaged between 10-14 lbs. in size. IC System was proud to support a local business, and Ferndale, not unlike IC System, is in its third generation of family ownership. IC System donated the 22 extra turkeys leftover from the event to the White Bear Lake Area Food Shelf.
Besides a turkey pick-up, employees made another drive-thru stop for a good cause: Members of IC System's in-house charity group ECHO (Employee Charitable Help Organization) collected cash and non-perishable food items for the White Bear Lake Area Food Shelf. Employees donated several hundred pounds of food and over $700 in cash for the cause, and IC System added another $1,000 to the total given to the Food Shelf.
Joseph Erickson, Director of Human Resources and part of IC System's founding family, had this to say about the event: "With this event, I felt more gratitude for the people of IC System than ever before. Handing turkeys out was a just token of our appreciation. To see the smiling people of IC System drive-thru filled me with a great sense of pride in what we have accomplished this year. Sometimes you need a good challenge to test your meddle. I'm so proud of how our team and IC family has responded together. Though we are apart, I have never felt this connected to our fantastic group of people."

Brian Eggert is a business development specialist and writer for IC System, one of the largest receivables management companies in the United States. With 18 years in the collection industry, Brian's experience includes operations, client service, proposal writing, blogging, content creation, and web development.