Collection agencies, the FDCPA, and you: Safeguarding customer info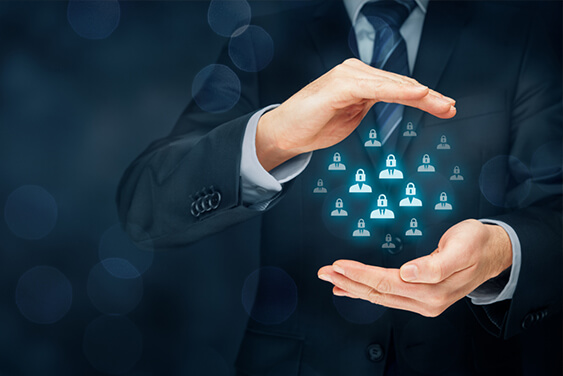 One thing business owners think about is protecting consumer information. When it's time to turn late accounts over to a third-party debt collector, you may be wondering what happens to that information and what they do to keep it safe. The short answer: Go in with high expectations. Because a reputable, quality collection agency may have even more safeguards than you do. After all, they are your customers, and your reputation is potentially on the line.
According to the Fair Debt Collection Practices Act (FDCPA), third-party collection agencies are legally required to keep information about your customers' debt from getting out to others — people whose names aren't on the account. Here are three ways that works.
What can a collection agency do when they have an outdated address and phone number for your customer? They can try calling other people the customer knows, like family members, neighbors, and co-workers. They can ask if they're willing to give updated information. But they can't divulge anything about the debt. They also can't reveal they're calling from a collection agency.
A reputable collection partner mails notices with privacy in mind. The return address can have the collection agency's name and logo, but it can't allude to the fact that the business is a collection agency. Because that's an embarrassing detail that can be tipped off to roommates, visiting in-laws, and other people who don't need to be privy to the debt.
When a collection agency does reach your customers by phone, the customer care representative will ask a few questions to verify they're talking to the right person — the account holder. Again, the purpose is to make sure they haven't reached the wrong person.
Beyond the FDCPA, a reputable collection agency should take other steps to safeguard your customers' private information.
FISA score: In the simplest terms, this is a tool that evaluates a company's risk of a security breach. At IC System, our security assessment goes above-board and includes an evaluation on how we comply with industry standards (e.g., safeguarding medical data, complying with specific state laws). This helps us see where we're strong, and what needs improvement. In fact, a third-party auditing firm rated IC System as 30 percent more secure than industry competitors.
Industry standards: Collection agencies can also follow the same practices to comply with industry-specific privacy laws and standards. Prime examples are the Health Insurance Portability and Accountability Act and the Health Information Technology for Economic and Clinical Health Act. To ensure compliance, IC System takes part in regular audits.
Don't let your concerns about protecting consumer information keep you from resolving bad debts. To learn more about how you can increase revenues through better bill collection processes, download IC System's eBook: A Handy Trail Guide to Faster Payments and Increasing Cash Flow.
Brian Eggert is a business development specialist and writer for IC System, one of the largest receivables management companies in the United States. With 18 years in the collection industry, Brian's experience includes operations, client service, proposal writing, blogging, content creation, and web development.