How to shore up your past-due recovery practices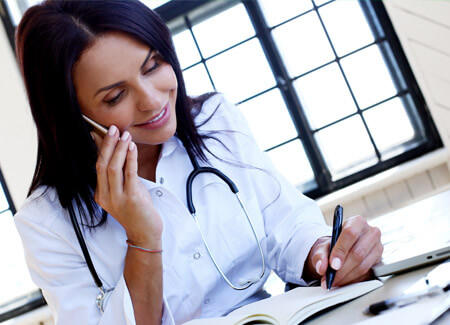 It's always a best practice for a clinic to have policies and procedures for their accounts receivables. To make sure yours line up with current rules, laws, and regulations, it's smart to consult with a professional for collection advice. Here are some basics:
Phone calls
Picking up the phone and calling the past-due patient early on can ferret out some smaller problems and misunderstandings that have simple solutions.
Still, it's important your staff knows and understands federal and state laws governing debt collection calls. Dialing one patient too often or after a certain hour at night can land your practice in afoul of regulations. To help you tighten your telephone procedures, schedule a consultation with your accounts receivable partner to help you develop guidelines and a script, so your calls are both effective and stay within the law.
Letters
Sending a letter can also open communication with patients who are behind on their bills. This is a chance to lay out their options, including contact information and business hours, and what the next steps are if payment does not arrive by the due date.
To ensure your letter sends a courteous but firm message — one that also lays out the patient's rights and options and follows regulations — many collection agencies can draft the final letter for a fee. This will not only save you time, but chances are, your practice will get a positive response.
Settlement offers
Sometimes, patients may offer to pay a percentage of their bill to consider it settled. Should you accept? This serves as a good reminder that your accounts receivable balance from month to month can give you a false sense of security.
But the truth is, once a debt reaches the 90-day mark, it rapidly drops in value, because the odds of recovering it diminish with every month. In some cases, a settlement is absolutely worth your while. With the help of your attorney, draft a template agreement letter ahead of time, and set policies and procedures as to when your clinic agrees and declines to settle, so patients are dealt with fairly.
Collection
Once your accounts reach the 90-day past-due mark, working with a collection agency has many advantages over taking your patients to court. It frees up your staff time. Your collection partner brings deeper resources to track down "dead end" patients. And in many instances, a letter from a third party often succeeds in getting people to pay more quickly than going through the court process.
Even so, your business is governed by ethics, regulations, and best practices. It's crucial to vet your collection partner carefully to make sure they care about their industry's regulations and best practices, and moreover, that they will treat your patients will a level of respect that will preserve the patient relationship. Ask about their approach and procedures, because you want full assurance that your collection partner is not only following best practices, but is also adhering to federal and state laws.
Need collection help?
Call us at 1-800-279-3511 to REQUEST PRICING!
Brian Eggert is a business development specialist and writer for IC System, one of the largest receivables management companies in the United States. With 18 years in the collection industry, Brian's experience includes operations, client service, proposal writing, blogging, content creation, and web development.