Improve dental collections with this measuring tool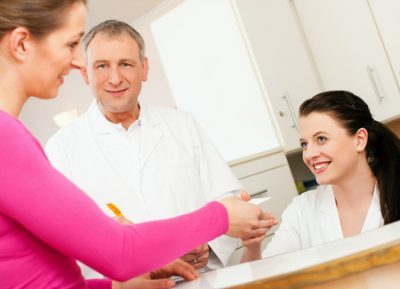 When a patient leaves your dental practice without paying, the account has already begun to drop in value. Later, your staff will have the task of preparing and mailing a bill. What's more concerning is that, if the patient doesn't pay their first bill, the chance of recovering the debt diminishes each month the account is past due. So how can you improve dental collections?
According to the Commercial Collection Law League of America, practices recover three-quarters of money owed when they are 90 days past due, and it quickly drops to one-quarter when the debt reaches one year. So it's no surprise that most dental practices recognize the importance of collecting payment on the same day of the visit. By one measure, 68 percent that were surveyed indicated they already do this.
Still, only 40 percent of practices are keeping track of how effectively their staff is collecting these funds. To improve collections and increase accountability, make a point to start tracking your over-the-counter collection ratio. This compares what was collected to what could have been collected. With these strategies, your practice can start using this ratio to improve front-desk collections:
Calculate this ratio by diving the total amount collected at the front desk by the total billed (excluding insurance and other expected third-party payments). The result will be a percentage.
Require staff to collect co-pays and deductibles from all patients on the same day of the visit. If this is already required, look for other billing practices and policy changes that can improve the ratio. For example, offer patients who lack insurance a discount when they pay in full on the same day of the visit.
Keep track of the month's over-the-counter ratio. There is no industry benchmark for the ideal percentage, but you can set a monthly goal for your staff to increase the percentage and post the results. If the ratio falls short of the goal, search for underlying reasons and ask your staffers to brainstorm solutions. Perhaps you could develop a script for difficult situations or offer additional payment options to nudge that figure upward.
Partner with a reputable collection agency to collect your past-due accounts early on. Once that past-due account reaches the 90-day mark, the likelihood of recovering that money decreases with each passing month. A good company will offer deep resources and a specialized staff to help you achieve a higher success rate.
Most practices want to improve their collections practices. With this very simple accountability tool, your practice can bring this front and center. And in the end, you could even increase cash flow at your practice.
Need collection help?
Call us at 1-800-279-3511 to REQUEST PRICING!
Brian Eggert is a business development specialist and writer for IC System, one of the largest receivables management companies in the United States. With 18 years in the collection industry, Brian's experience includes operations, client service, proposal writing, blogging, content creation, and web development.