IC System Volunteers for Rotary Lights Winter Festival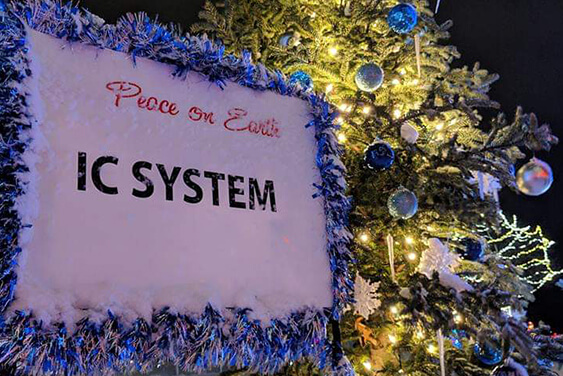 More than 34 employees from IC System's Wisconsin branch office volunteered to help gather donations and oversee the Rotary Light festival in La Crosse. Each night, a different business or group volunteers its time to the winter festival. Decked in IC System stocking hats and scarves, the volunteers gathered for three shifts on December 4 to facilitate the event, which runs from the day after Thanksgiving to New Year's Eve.
Every year, upwards of 3,000 volunteers come together in La Crosse's Riverside Park to help those in need by collecting non-perishable food or monetary donations to Rotary Lights. The mission of Rotary Lights, to "feed the hungry of the Coulee Region," has set an ongoing goal to raise 4 million items of food. In their 23 years, the charity has raised 3.6 million items and counting. 2018 is bound to bring Rotary Lights closer to their goal than ever—since 2016 added 302,586 items to their total, and 2017 added 321,463 items.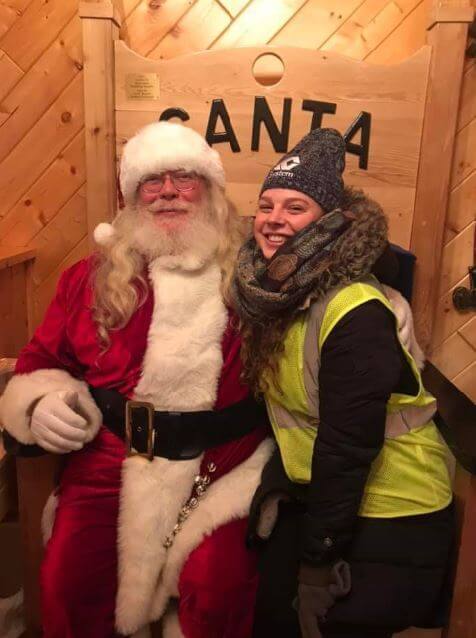 More than 160,000 visitors attend the Rotary Lights festivities each year. Some drive through to look at the wowing displays of lights, over 3 million lights in all, which give the park a touch of holiday magic. Others walk or take a carriage ride through the park to take in its visual splendor. The free event also features the Rotary Lights Parade, live music, reindeer, hay rides, and a 5k Ugly Sweater Run. And best of all, Santa is in attendance—yes, the real Santa. Visitors can save the cost of a stamp and tell Old St. Nick what they want this holiday season in person.
IC System's volunteers were responsible for collecting donations, directing traffic and pedestrians, and helping guests. A few lucky volunteers even got to serve as Santa's Little Helpers. They managed the anxious line of children (and adults) waiting to see Santa, momentarily distracting them from their restless anticipation with questions like "What do want for Christmas?" and "Have you been good this year?"
"This was our first year volunteering," said Kim Dickinson, the IC System supervisor who helped organize our company's night of volunteering. "It's definitely something we plan to do year after year. There was a lot of buzz in the office the next day, so we'll probably get more volunteers next year. Everyone was so overwhelmed by the generosity and holiday spirit of our community. People would just drive up with grocery bags full of food. Or they'd hand us anywhere from $20 to $100 in donations. It was extremely heartwarming to see. I think that kind of giving is infectious, and it made everyone want to participate again next year."
IC System employees also decorated one of the many Christmas Trees lining Riverside Park in La Crosse, adorning it with lights, snowflakes, icicles, and ornaments in the style of our company's Core Values (People, Pride, Integrity, Performance, and Innovation). Overall, the evening was an overwhelming success and, if you live in the Wisconsin area, there's still time to check it out. It's a beautiful light show and an even more stunning display of generosity during the holiday season.
Brian Eggert is a business development specialist and writer for IC System, one of the largest receivables management companies in the United States. With 18 years in the collection industry, Brian's experience includes operations, client service, proposal writing, blogging, content creation, and web development.