IC System Golfs for Charity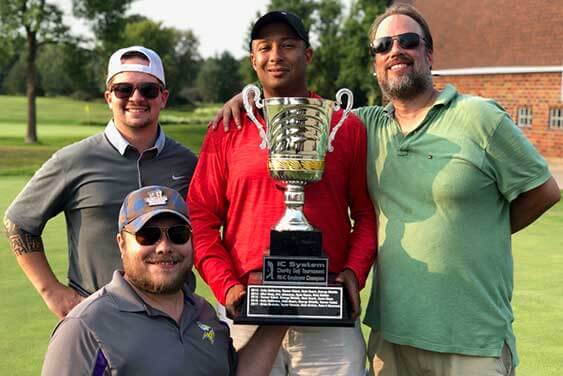 For the last 20 years, IC System has gathered every summer for the company's annual Charity Golf Tournament. The family-owned accounts receivable recovery company, which celebrates its 80th anniversary in business as of 2018, met at Tanners Brook in Forest Lake, Minnesota, for the tournament this year. The weather was gorgeous and the golfers were enthusiastic, as everyone was ready to donate to a great cause.
Volunteers from IC System and our charity group, ECHO (Employee Charitable Help Organization), organized the event to raise contributions for the Wounded Warriors Project, Ronald McDonald House Charities, and the American Cancer Society. In total, the 2018 event helped raise $18,324 for these charities, marking IC System's largest single year of donations in 20 years of hosting this event.
Rocky Bzdok, the event's coordinator, pointed out how this was a landmark year for the company's Charity Golf Tournament. "It was amazing that on our 20th Anniversary of the Charity Golf tournament, we were not only able to raise the largest amount ever for the tournament, but our 20-year total topped over $80,000 the same year of IC System's 80th anniversary," she observed. "This tournament is such a fun way to give back to our community. And everyone had a great time!"
The event, sponsored by nearly twenty of IC System's clients and vendors, also featured a day jam-packed with amusing games and contests throughout the course. For instance, participants could compete in the "sticky challenge" to determine who could make the longest drive… of a marshmallow. Elsewhere, putt challenges, team goals, and even mulligans added to the donation totals for charity. For the second year in a row, the team of employees including Matt McHale, Dustin Rogers, Taylor Hansen, and Dan Olson (pictured) took home the trophy for the best score. Congrats guys!
Overall, the 20th Annual Charity Golf Tournament was a rousing success. It was, of course, a lot of fun, but the company coming together in a huge way for worthy cause remains the purpose of the event. What's more, knowing that our competitive employees will be back next year, trying to defeat the 2018 record, gives IC System golfers something to aspire to.
Brian Eggert is a business development specialist and writer for IC System, one of the largest receivables management companies in the United States. With 18 years in the collection industry, Brian's experience includes operations, client service, proposal writing, blogging, content creation, and web development.