IC System at the 2018 Hot Chocolate Run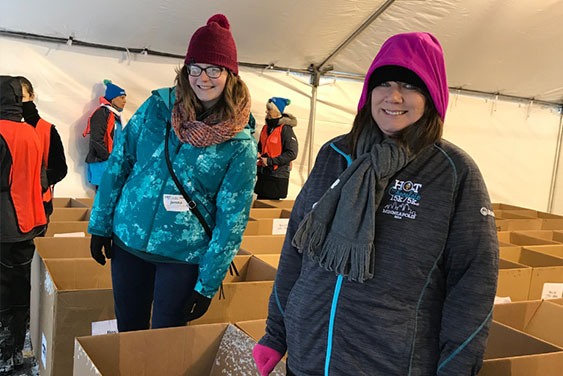 Volunteers from IC System and our charity group, ECHO (Employee Charitable Help Organization), volunteered for the 2018 Hot Chocolate Run 15k/5k on April 14. Runners started and finished in Boom Island Park in Minneapolis, and then afterward celebrated with some chocolate fondue and other goodies. Sponsored by Allstate, the proceeds for the charitable run were donated to the Make-A-Wish Foundation.
In the Twin Cities, April 14 marked another special occasion. We were struck with a "historic" blizzard, according to the National Weather Service, and the storm left over a foot of snow on the ground, sparking a series of cancellations of major events planned for the weekend. St. Paul Mayor Melvin Carter canceled a planned speech, a baseball game between the Minnesota Twins and the Chicago White Sox was postponed, and the March for Science event was canceled. But the Hot Chocolate Run participants could not be deterred by this typical Minnesota-brand springtime weather.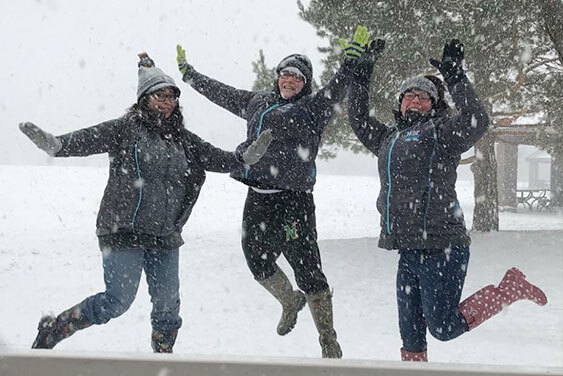 IC System volunteers oversaw the Gear Check station, keeping an eye on the personal items for runners and walkers who braved the snowfall. Of course, as the runners and walkers were trekking through the snow, our team took advantage of picturesque snowfall, regardless of the chilly temperatures.
Nicole Mueller, co-head of the ECHO group, remarked, "I think I can speak for everyone when I say it was COLD. We were all a little surprised that the event wasn't called off due to the looming blizzard. RamRacing did a great job making sure paths were cleared and it was as safe as it could be for all participants. I was definitely shocked to see so many runners who still came out and participated. All in all, it was a great time and definitely worth being in the freezing temps to help the Make-A-Wish Foundation."
Thanks to IC System volunteers and participants in the 2018 Hot Chocolate Run 15k/5k for facing the cold and supporting such a wonderful cause!
Brian Eggert is a business development specialist and writer for IC System, one of the largest receivables management companies in the United States. With 18 years in the collection industry, Brian's experience includes operations, client service, proposal writing, blogging, content creation, and web development.