Wildfires Burn Through State Budgets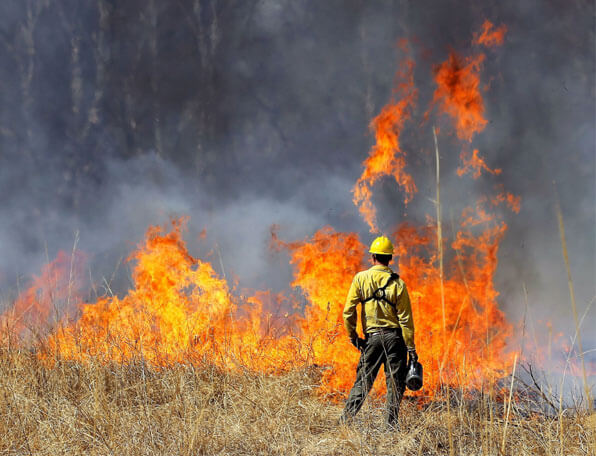 So far, 2017 has been a notably bad year for wildfires, both in the literal and figurative sense. Nationally, wildfires have consumed nearly 9 million acres of land year-to-date, which is about 45% more than the annual average over the prior ten years. Fighting all of these fires is quite expensive, with the federal government having spent more than $2 billion on fire suppression in 2017, and states spending countless more on top of that, leading to a crisis in state budgets.
Needing to spend so much on fire suppression can lead to budgetary challenges. In states with small tax bases, expensive fires in a tight budget year can wipe out reserve funds and escalate a fiscal crisis. Most states set aside funds to pay for wildfires and other natural disasters, but sometimes that money doesn't go far enough, and lawmakers are left scrambling to find the necessary money to pay for such disasters.
Fires, of course, are just one example of the myriad of challenges facing states and local municipalities on a continual basis, but it is a good illustration of just how tenuous state and local budgets can be. States and cities continue to feel the lingering effects of the Great Recession, and slow revenue growth is a widespread challenge. Beyond that, states and cities face widely varied budget challenges. Sources of fiscal stress run the gamut from increased public schools enrollment and higher than expected Medicaid costs to revenues being below projection and legislative gridlock.
With so many metaphoric budget fires burning at any given time, it is important to partner with the best "firefighters" that can be found. IC System has a proven history of partnering with state and local government entities to help improve their economic outcomes by providing debt collection services which leverage technology, emphasize data security, and promote innovation.
Need collection help?
Call us at 1-800-279-3511 to REQUEST PRICING!
Ben Fisher has been with IC System, one of the largest receivables management companies in the United States, since 2013. He has honed his extensive industry knowledge through his varied roles for the company within departments such as operations, client service, and marketing.