Government: Internal Debt Collection Tips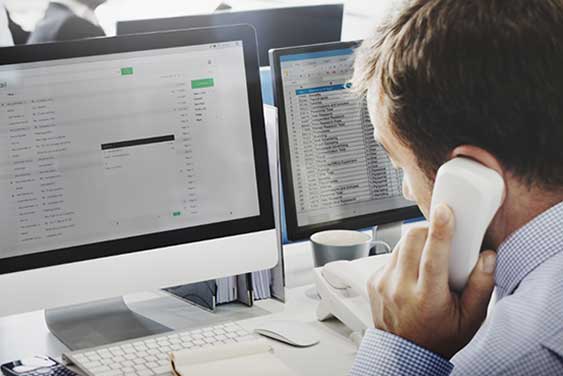 Much like other types of debt, past-due government accounts generally become more difficult to collect the older the accounts get. When the accounts age to the point where your office can no longer efficiently and effectively collect them, it makes sense to team with a trusted collection partner such as IC System to try to realize some of that lost revenue. But, if your office follows some of the following tips when making initial collection calls, you should be able to maximize your internal collection efforts and thus lessen the volume of accounts that you are forced to place with an outside agency.
Review the file before calling – Spending a brief moment to familiarize yourself with the details of the bill will prepare you to answer common questions the consumer will have
Smile and Dial – It really does make a difference. If you have a smile on your face, the person on the other end of the call can hear it in your voice.
Identify yourself clearly and confirm you are speaking with the correct person – And then state the reason for the call.
Ask leading, open questions – Doing so will help you understand why the consumer failed to pay the account in the first place, and if they are likely to pay in the future. Knowing this will make it easier to set up payment arrangements.
Listen – Asking great questions is pointless if you aren't actively listening to the answers. Also, simply displaying active listening skills can often be an effective way to de-escalate an upset or irate consumer.
Be assertive – Take control of the conversation, but be careful to not cross the line and become too aggressive.
Sell the consumer on the benefits of paying – Your results will be better if you convince people that they want to pay their accounts.
Document the conversation – Keep careful track of the details of the call, including the date and time, who the call was with, the details of the conversation, and what arrangements were made. Keeping records such as this will help in any future collection efforts.
Of course, when all else fails it will become necessary to partner with a third-party bad debt collection agency that has a proven track record in government accounts. IC System is celebrating 80 years of delivering reliable, ethical debt collection solutions.
Need collection help?
Call us at 1-800-279-3511 to REQUEST PRICING!
Ben Fisher has been with IC System, one of the largest receivables management companies in the United States, since 2013. He has honed his extensive industry knowledge through his varied roles for the company within departments such as operations, client service, and marketing.